Mercian Regiment's annual pilgrimage to tower resumes
By Jennifer Harby
BBC News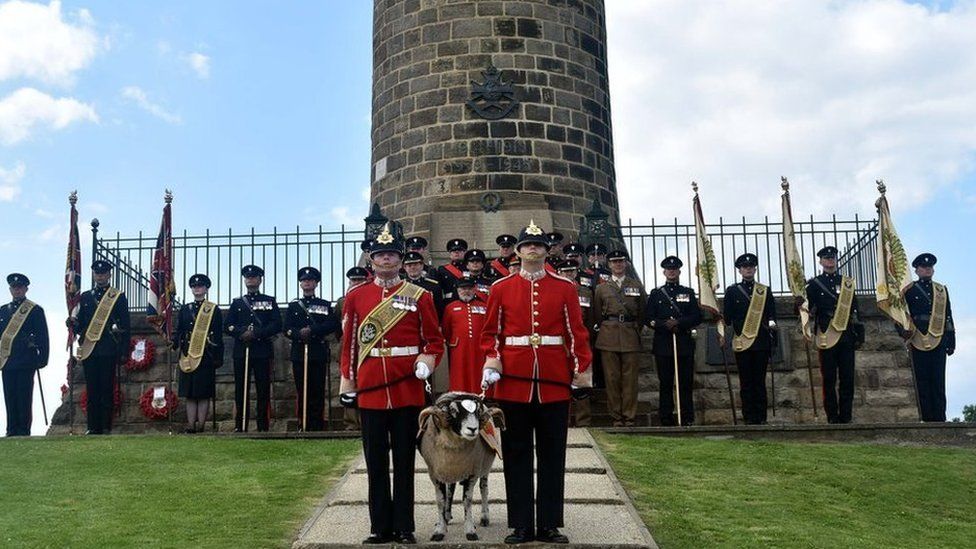 An Army regiment's annual pilgrimage to a memorial tower is to resume after being suspended for two years due to the coronavirus pandemic.
Serving and retired soldiers from The Mercian Regiment and its antecedent regiments will attend the event, which will take place at the regiment's memorial in Crich, Derbyshire.
The Crich Stand honours soldiers killed in action since World War One.
The regiment said it was a chance to reflect and remember.
On parade at the service of remembrance will be the colour parties from each of the regiment's three battalions.
The regimental mascot, Private Derby XXXII, a Swaledale ram, donated to the regiment by the Duke of Devonshire from his Chatsworth Estate, will also be on parade.
The event will be attended by soldiers and retired soldiers from the Worcestershire and Sherwood Foresters and the Sherwood Foresters, as well as the Mercian Regiment.
The regiment's band will provide musical accompaniment and members of the Derbyshire and Nottinghamshire Army Cadet Force will also be on parade to line the path to the memorial.
The Mercian Regiment was established in 2007, with the merger of the Cheshire, Staffordshire and Worcester and Sherwood Foresters regiments.
Brig (Retired) Peter Dennis regimental secretary, said: "The annual pilgrimage to the Mercian Regiment Memorial at Crich is an especially important event.
"The pilgrimage is an opportunity to reflect and remember the sacrifices that have been made by Mercian Regiment soldiers and soldiers of our antecedent regiments.
"We are fortunate to be once again commemorating the day to its fullest extent after a hiatus due to the coronavirus. This year will mark the 99th year since the pilgrimage first began."
Related Internet Links
The BBC is not responsible for the content of external sites.