Chris Packham in row with council over removal of wildflowers
By Heather Burman & Tom Oakley
BBC News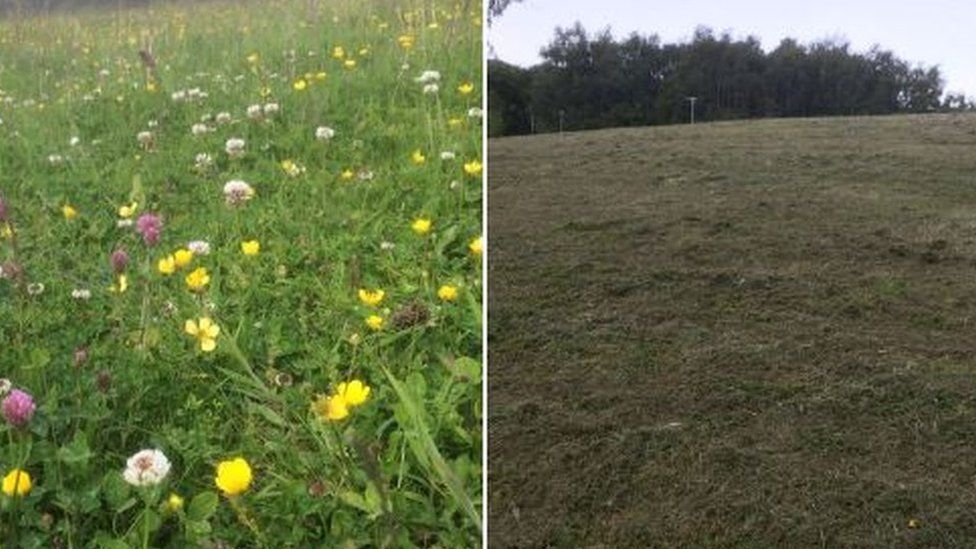 A row has broken out between naturalist Chris Packham and a council after an area of wildflowers was cut down.
The TV presenter criticised Derbyshire Dales District Council on Twitter for mowing an area near Matlock's Arc Leisure Centre.
He said the issue highlighted by not-for-profit group Little Green Space in a tweet was "maddening".
The council said it did mow part of the site but other areas were left for pollinators.
The social media row began when Little Green Space tweeted on 1 June that it had wanted to praise the council for letting a "beautiful meadow grow on a steep slope at Matlock's leisure centre".
The group said that on 31 May, there were "at least eight wildflower species" with bumblebees and swifts overhead but by 1 June, they had all gone and it was "mowed into lifeless 'neat & tidy'".
In response, Chris Packham said: "This is maddening! When will we learn? Who is responsible and why has this happened?
"There is a biodiversity crisis and we are all getting sick of excuses for this sort of vandalism."
On Twitter, the council said the area was not usually a wildflower meadow.
It added the only reason flowers had bloomed there was because it stopped mowing it as part of No Mow May, a project to encourage gardeners to let their lawns grow wild last month.
The authority said: "As was always the plan, we mowed part of the area at the start of June, but left other parts uncut to provide continuity for the pollinators.
"We know that local people have been using this space as a picnic area, particularly during the pandemic... which was why we cut the central space - but we have given a commitment to monitor its usage this summer to guide us on the possibility of extending #NoMowMay next year."
In a lengthy reply, the authority said it felt it had taken a "bit of a battering on social media" and accused Chris Packham of "piling in" on the issue.
The council said: "When national groups with a huge social media following decide to knock you down you really are on a hiding to nothing, but we believe that local people will understand what we have been trying to do with this piece of land."
But Mr Packham said on Thursday the council should "break the mould and be accountable for your mistake".
In a further tweet, he said: "Just tell us why you destroyed this meadow.
"Just why you sanctioned its destruction, or neglected to protect it... simple question so 'pile in' with an answer."
The council said it welcomed "constructive advice and encouragement" and invited the Springwatch presenter to visit them.
Admin of the Little Green Space Twitter account, Richard Bunting, has written a letter to the authority urging its teams to leave grass uncut until August.
He told the BBC: "I went down to the leisure centre and was hugely impressed by the beautiful wildflower meadow.
"There were so many bumblebees and it was full of life. I was going to praise the council but when I went down the next day it was all gone.
"I see no reason why it couldn't have been left until the summer - the meadow was something they should be proud to display.
"My tweet wasn't to criticise the council, it was an expression of sadness that the meadow was gone. I'm puzzled at how the council has handled the situation.
"I think the council are making some positive steps to promote biodiversity, but it's too little and too slow."
Related Internet Links
The BBC is not responsible for the content of external sites.