Cromford Mill: UNESCO world heritage site returns to hydro power
By Sally Bowman & Jennifer Harby
BBC East Midlands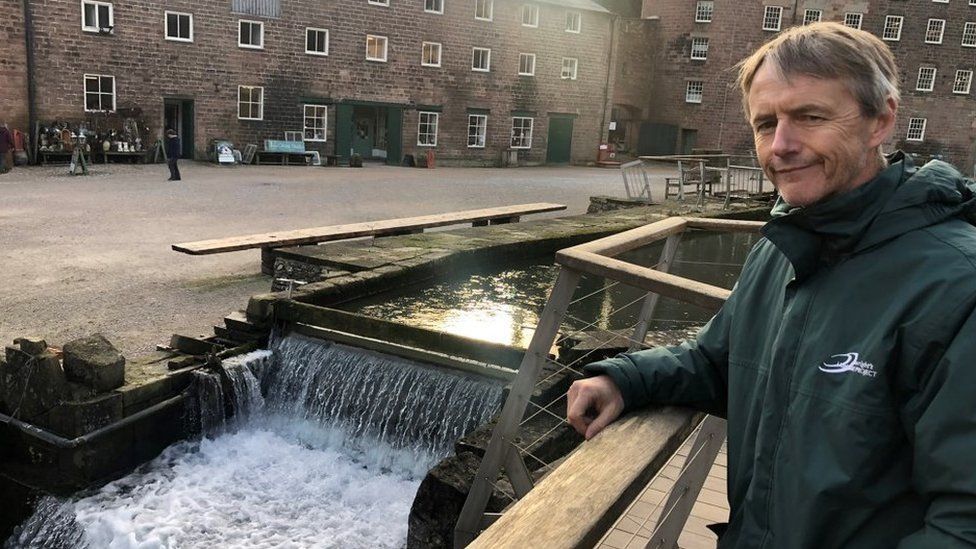 A world-first mill is to return to hydro power after planning permission was approved for a new water wheel.
Cromford Mill, in Derbyshire, was the world's first successful water-powered cotton spinning mill and was built in 1771 by Sir Richard Arkwright.
The Arkwright Society is raising £300,000 to restore hydro power at the mill, which forms part of a UNESCO World Heritage Site.
Simon Gill, from the site, said water was returning to the heart of the mill.
The operations director said using water as an energy source had been central to Arkwright's mill.
"We think there were three wheels here in total," Mr Gill said.
The project will involve reinstating a waterwheel and installing a 20kW hydro-turbine to power the buildings, along with interpretation.
The scheme will also see water heat pumps installed and an old turbine in nearby Cromford village restored.
Mr Gill said it would demonstrate the importance of water power and how it started an industrial revolution.
"We want to return water to be at the heart of Cromford Mill and village by the installation of hydro power," he said.
"It's so important that we can demonstrate that on a historic site, with all the challenges we have of a UNESCO World Heritage, Grade I site, we can use modern technologies but in a sympathetic way."
Cromford Mill, the world's first successful water-powered cotton spinning mill, was built in 1771 by Sir Richard Arkwright
Until about 1790, he developed the mills, warehouses and workshops, which now form the Cromford Mills site
Arkwright's invention of the water frame to spin cotton transformed the manufacture of cotton into England's major industry and created a system of factory production that spread throughout the world
The mill in later years was almost lost as new buildings and a reliance on fossil fuel became the norm
Source: The Arkwright Society
Energy sold will generate income, which will be managed through a Community Interest Company. The profits will then be used to further other projects in the village.
Ruth Mulvany, rural energy projects manager for Midlands Net Zero Hub - which supported the project - said: "People often think we need innovative technologies but, in fact, these technologies have been around for a long time."