Tissington Well Dressings to return to village after Covid
By Jennifer Harby
BBC News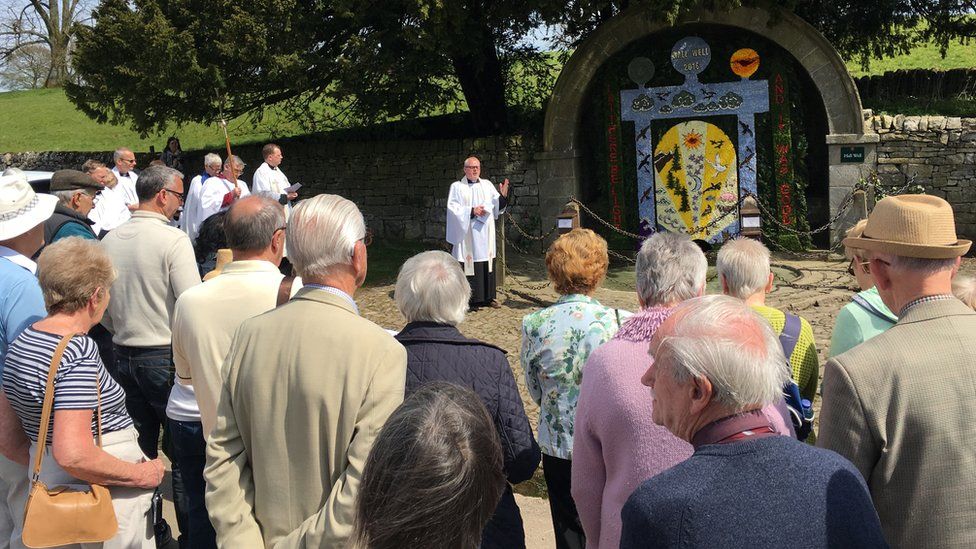 An annual well dressing festival with roots believed to date back as far as the 14th Century is to return to a Derbyshire village.
Tissington, which has a population of about 110 people, expects to welcome about 35,000 visitors to the event.
It is believed the tradition of decorating wells began after locals survived the Black Death, which they credited to the water supply's purity.
The event is due to run from 26 May to 1 June.
The wells are dressed by applying clay on wooden boards and using materials like coffee beans to make an outline.
They are then decorated with natural materials including flower petals, leaves, sheep's wool, parsley, grit and tree bark.
Sir Richard FitzHerbet, chief executive of Tissington Hall, said the history of the event had made it significant to the area.
"We've got six wells in the village. In times of drought and in times of plague down the years, the wells have never dried up," he said.
"As a result, the locals in villages around Derbyshire have praised the Lord for the life-giving water of the wells."
The displays were suspended for two years during the coronavirus pandemic.
"During the pandemic, we haven't been able to have our well dressing ceremony for obvious reasons, being a large gathering, and it really has impacted on the livelihoods of some of the businesses in the village, but also it's the community aspect as well - the common goal of creating these marvellous creations," he added.
"That's been a great shame."
Related Internet Links
The BBC is not responsible for the content of external sites.