Tomb Raider fans tell how game changed their lives
By David Pittam
BBC News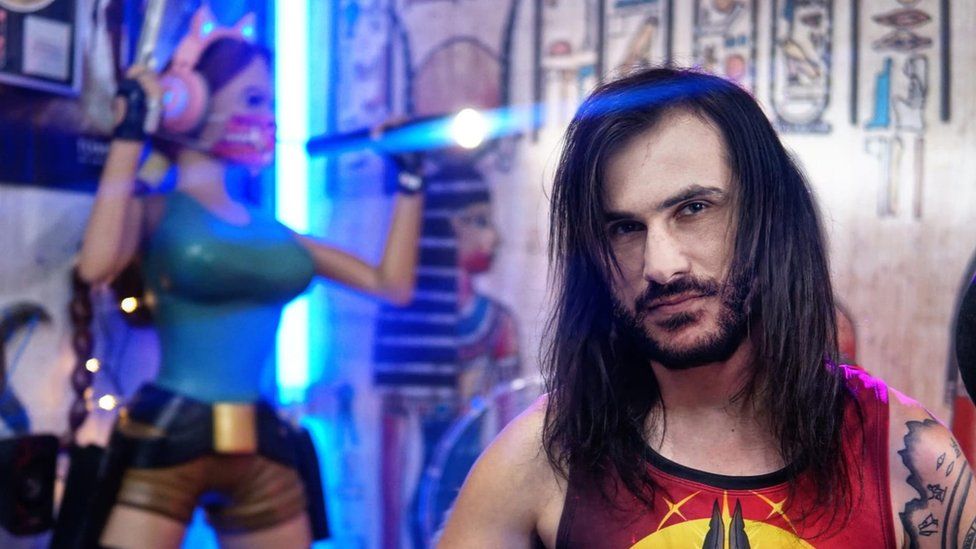 It's 25 years this week since the Tomb Raider computer game was first launched and, in that time, it has had a huge influence on fans around the world. BBC News spoke to some of them.
Back in the mid-90s, at the height of Britpop and Cool Britannia, a small team of people working for Derby video game developer Core Design dreamed up a character that would shake the then male-dominated world of gaming.
Lara Croft was the kind of strong, female protagonist previously undreamt of, but her heavily sexualised image also provoked the ire of feminists.
Nevertheless, Tomb Raider took in two Hollywood films, numerous magazine covers and advertising campaigns - and attracted fans across the globe.
'Smart, intelligent woman'
"I've been a fan for 25 years - since I was 11," said Laurie, 36, from East London.
Laurie met her husband Jason on a Tomb Raider forum in 2008 after leaving a "snarky quip" next to something he had posted.
"He replied and we became really fast friends from there.
"A couple of months later we struck up a relationship."
They married in 2015 and now have a three-year-old son, Alexander. One of his first words was Lara.
"He says it like 'Rara' but he's very aware of who she is," she said. "She's everywhere in this house."
She said Lara Croft's unique appeal had been inspirational for her.
"At the time there wasn't really a role model for me to look up to," she said.
"When I saw this really intelligent, smart woman kicking bum every day I thought wow."
'I wanted to know what she said'
Tomb Raider blogger Ash Kaprielov, 33, from Manchester, learned to speak English through playing the game.
Mr Kaprielov, who describes himself as LGBT, said he grew up in a country that oppresses gay people.
"I turned to video games as a means of escape and Tomb Raider was one of them," he said.
"I learned English because I wanted to know what [Lara] said in the cut scenes and I was looking up all these words."
He said when he first moved to the UK in 2005, he had a "very rough period".
"I was thinking I would end my own life and a friend I met through Tomb Raider talked me out of it," he said.
"She stayed online with me until 06:00, so I wouldn't be here if it wasn't for Lara."
Daryl Baxter, an author and technology writer whose latest book explores Tomb Raider's origins, said he felt the game's strong narrative and ability to explore each level freely - both innovative ideas at the time - had helped it gain fans around the world.
"People followed a story and wanted to see how Lara reacted to different characters," he said.
"It doesn't surprise me that it went around the world and had a huge impact on fans' lives."