Man feels tingling in fingers after hand is reattached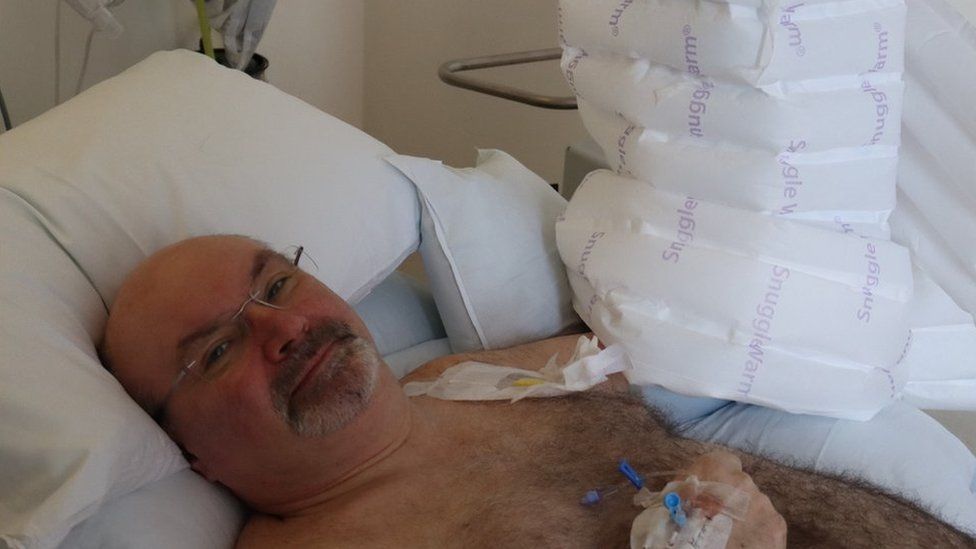 A man whose left hand was reattached after an industrial accident has said he longs to regain enough movement to hold hands with his wife.
Christopher Wright, 57, from Oswestry, Shropshire, had his arm pulled inside a machine in February.
It was reattached in an 11-hour operation and he said he had recently felt a "tingling" in his fingers.
Speaking at the time, a Royal Derby Hospital surgeon said it was "very unusual to replant a whole hand".
The accident happened when Mr Wright was working near a cardboard cartons machine at a factory in Wrexham.
Part of his overalls became caught and pulled his arm inside.
"My hand was amputated - as quick as that," he said.
"I could easily have died as there are two blood vessels going through your wrist, with full blood pressure."
Mr Wright got a colleague to put on a tourniquet and was airlifted to Royal Derby Hospital's Pulvertaft Hand Centre by air ambulance.
Mr Wright described the three months since his operation as "frustrating".
"I had a small amount of movement but then scar tissue developed on the tendons and stopped that," he said.
"I've had more surgery to remove the scar tissue, so I've got splints and stitches, and won't know what I can move until those come off.
"I've begun to get a tingling in my fingers, a sign of nerve regeneration, so everything is going in the right direction.
"I'm never going to have as much movement as before but I hope to be able to at least pick up a cup or hold the wife's hand."
"Although we look after many patients with a range of different types of injury, it is very unusual to replant a whole hand," she added.
Related Internet Links
The BBC is not responsible for the content of external sites.