School protests force U-turn after sick pupil banned from wearing cap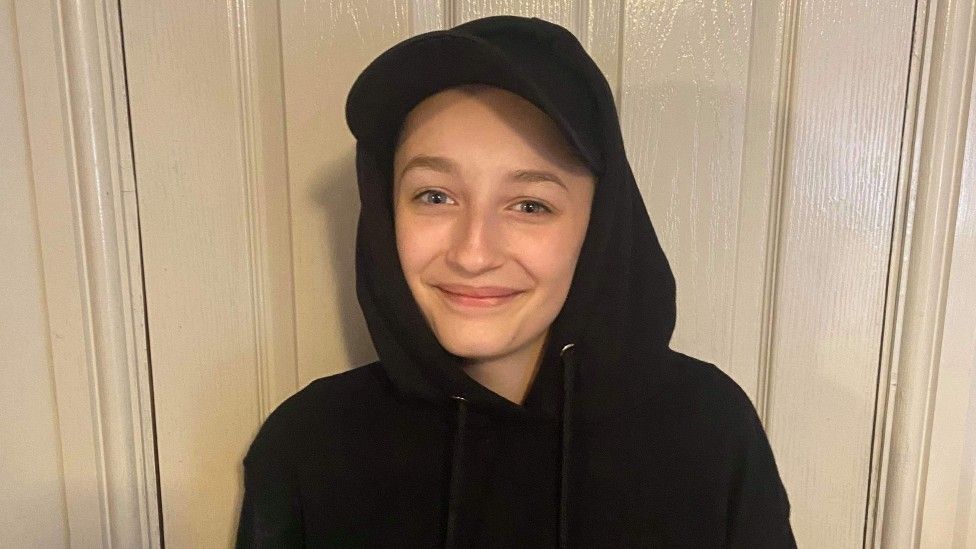 A teenager with a rare illness that has caused her hair to fall out can now wear a cap to school after pupils protested when her request was denied.
Ella Goodwin's father said the 13-year-old was told a cap or hoodie was not part of the uniform policy at Heritage High School in Clowne, Derbyshire.
The row led to a protest outside the school involving dozens of Ella's fellow pupils on Monday morning.
The school confirmed it has been agreed Ella can wear a cap and hoodie.
However Ella said she was frustrated that the school did not agree to her request earlier.
"Rules should be bent for someone going through something like this.
"But it was an amazing feeling just to know how many people supported me.
"I'm not ashamed... but wearing a cap and hoodie just gives me confidence and comfort. I would not have gone back to school without it," she said.
Ella was diagnosed two years ago with CRMO (chronic recurrent multifocal osteomyelitis), a disease where the immune system attacks the bones and causes pain and swelling.
Recently, her hair has started falling out. Her father Shaun Goodwin said doctors are unsure if the hair loss is a symptom or a side effect of medication she has to take.
Ella has had her head shaved and was given a wig by the Little Princess Trust, but Mr Goodwin said she did not feel comfortable in it.
He said he and partner Joanna Davies had a meeting with the school last week in which they were told a cap - including one with school branding - was not part of the uniform policy.
The row sparked a backlash among parents and pupils, and 25 to 30 children protested the decision on Monday morning, many of whom wore caps and hoodies in solidarity.
"We went up to the school to support Ella and the amount of children and parents stood there with hats on - it's amazing.
"The support of the community is outstanding."
Ms Davies added: "She [Ella] doesn't want to have to wear the cap but her hair loss is beyond her control.
"Even though everyone knows she's lost her hair, she uses the hat and hoodie to control who sees it and says when she is shielding it she feels in control.
"Even in the house she wears the hat, it's like her comfort blanket."
A spokesperson for the Two Counties Trust - which the school is part of - said: "We are happy to confirm that we have now been able to speak to Ella's family and have agreed with them that Ella can wear a cap and a hoodie to ensure she feels as comfortable and supported as possible when at school.
"We will continue to do everything we can to ensure Ella and her family are appropriately supported through this challenging period. No student has been sanctioned around this matter."
Mr Goodwin said: "It's amazing, but it shouldn't have got to this in the first place.
"They ought to have come to this decision quicker, but I'm well chuffed.
"Seeing the protest and the amount of support she had brought a lump to my throat."
Related Internet Links
The BBC is not responsible for the content of external sites.