Woman attacked and dog stolen while walking in Derbyshire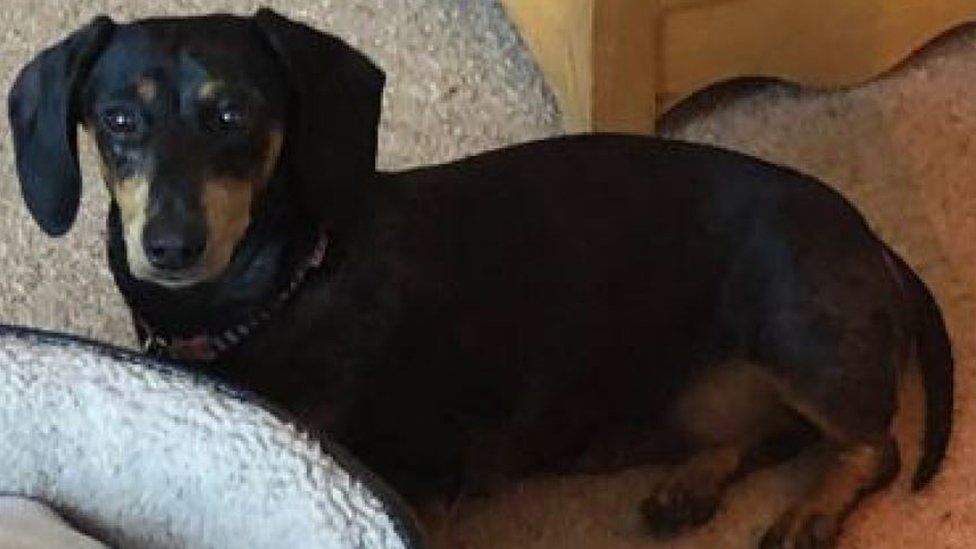 A woman has been attacked and had her dog stolen while she was out walking.
Joanna Fox said two men approached her in Moira Road, Woodville, Derbyshire, near a petrol station, at about 20:20 BST on Sunday.
The 50-year-old said one man pushed her to the floor, and grabbed her two-year-old dachshund called Minnie, while the other held his fist to her face.
Derbyshire Police have released an image of a man and asked anyone with information to get in touch.
Mrs Fox said it had been a "really peaceful" evening when the men - one of whom was wearing a mask - approached her.
"A man who was masked pushed me and I fell on the ground," she said.
"The tall man was yanking the lead and the short one was hovering above me as if to hit my face.
"The look on the short man's face was a look of hate."
Mrs Fox said Minnie was "shouting in pain" during the attack.
She said: "All I want is the dog to come back. I just feel broken; I feel lost."
Police said the men left with the dog in a black Ford Mondeo - registration beginning YG60 - in the direction of Albert Village.
Detectives are also asking anyone who was in the nearby Asda filling station in Burton Road, between 20:10 and 20:15, to get in touch.
Insp Chris Thornhill said incidents like this are very rare in Derbyshire but was "aware of the impact these crimes have on victims and how worried fellow dog owners will be".
He said: "Patrols have been stepped up in the area and you may see an increased police presence in the coming days. I would urge anyone with information, or concerns, to speak to them."
Related Internet Links
The BBC is not responsible for the content of external sites.