Handmade water wheel powers Derbyshire village Christmas lights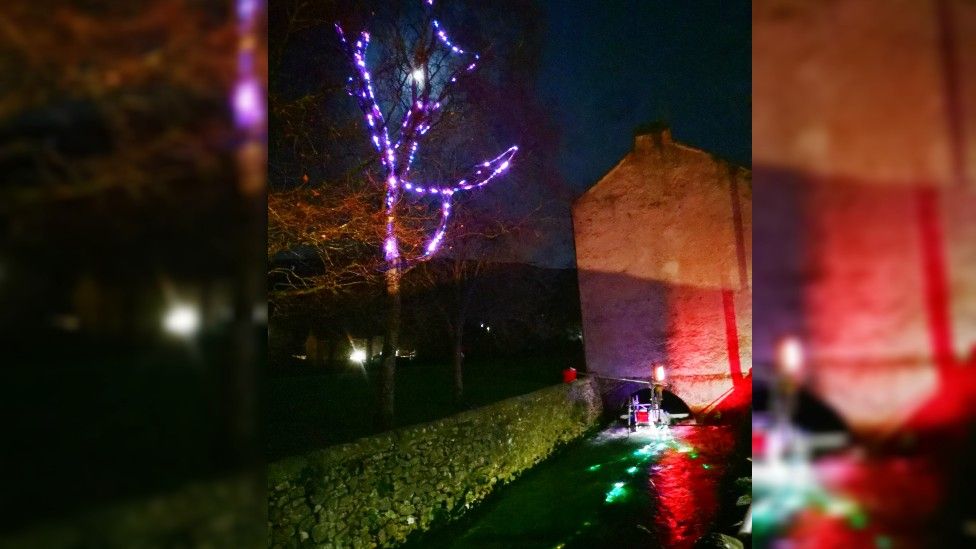 Residents of a Derbyshire village have constructed a handmade water wheel from two bicycle wheels and washing up bowls to power their Christmas lights.
Bradwell villagers said they believed their hydropower water wheel was the only one of its kind in the UK.
Parish councillor Andy Nash said the idea had brought people in the village together and "inspired kids to get involved".
The wheel illuminates 3,000 LED lights along the brook.
Organiser Mike Joseph came up with the concept and worked with the village's junior school to design the wheel, which uses water pressure to charge a battery during the day before releasing the energy at night.
Mr Joseph is a mechanical engineer, who lived in the US for 26 years and helped illuminate New York's Christmas lights display.
"We were trying to come up with a way to light the trees here for the village [because] there's no power locally for these trees," he said.
"So I thought, why don't we make a hydroelectric generator and use the brook?
"We get a lot of very positive feedback and it has become quite a local attraction."
"As far as we know, no-one else has a hydro-powered Christmas lights system like this," said Mr Nash.
"There's been great camaraderie making it but it's also really good for the village in pulling people together.
"For me, the most important thing is it's inspired the kids to get involved."
Monty Rook, 11, one of the pupils who worked on the design, said: "It's a huge project which has lots of lights and it's really bright and colourful.
"I think it's good for this to happen in a year like this."
Related Internet Links
The BBC is not responsible for the content of external sites.