Coronavirus: Belper moo relieves lockdown misery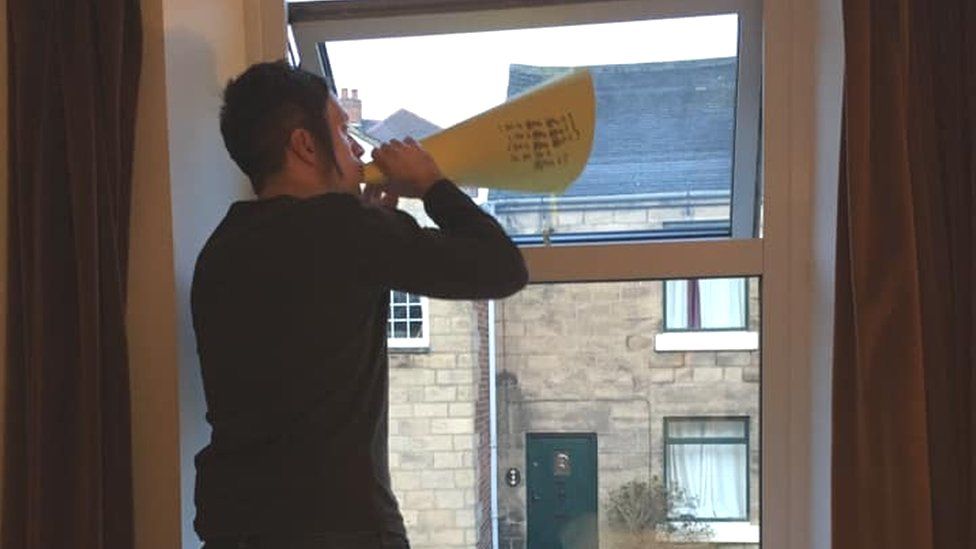 A "crazy" town has come up with a unique way to fight lockdown boredom - by mooing in unison.
Every evening at 18:30 locals in Belper, Derbyshire, gather on doorsteps and lean out of bedroom windows for a two-minute cattle chorus.
Jasper Ward said the bovine bellow was a way to make staying in "a little bit more bearable".
"The crazy people of this town have taken to it like cows to grass," he said.
Speaking on BBC 5 Live, Mr Ward said he expected the project to last for a few days and end with him being "ridiculed on social media".
"But we're three weeks in and at six thirty there's a chorus of moos," he said.
Mr Ward believes hundreds of people join in on busy evenings.
His hometown, which also boasts a Mr Potato Head statue, has a quirky reputation, but he thinks matters may run a little deeper.
"I seem to have unearthed a madness that has only been complemented by this lockdown," he said.
"It's a pretty grim time, so if we can cast a little bit of silliness into the day, that's great."
Becki Farrell said people in the town would talk about this for years: "I'm really pleased he's done something anyone of any age can get involved with for a silly giggle.
"We love the community spirit in Belper."
Isabel Kennedy has mooed since day one, and said: "It's a great way to get the community together be part of something in these crazy and weird times. It's the highlight of my day."