Coronavirus: Virtual pub recruits night 'bar staff' as members surge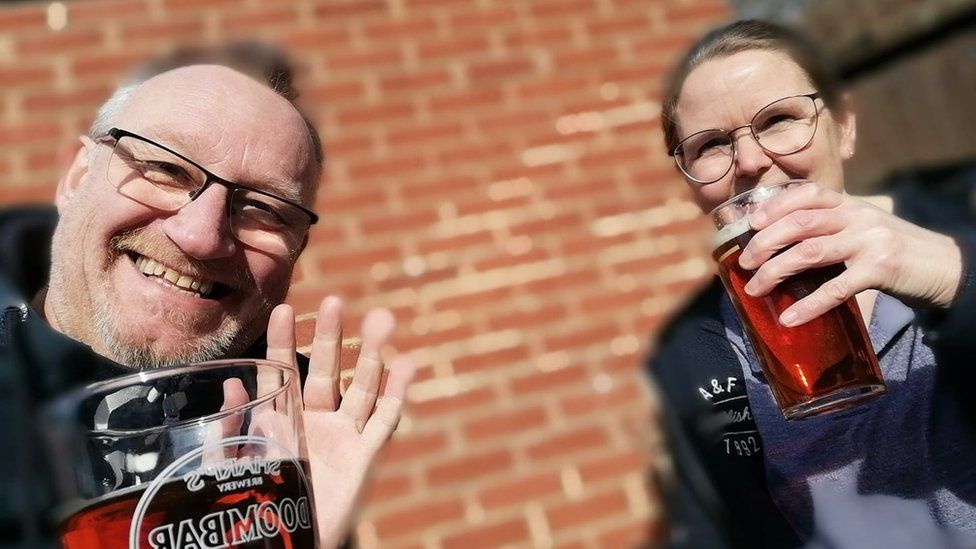 An ex-landlady who set up a virtual pub has recruited "bar staff" in Australia to monitor the page overnight as membership reached more than 12,000.
Miss Bowtell, from Spondon, Derby, said it is "the biggest pub I have ever had and it does fit round my children".
Hundreds of "patrons" have been posting selfies with drinks in the "pub".
The mother-of-two, who used to run The Noel Arms in Melton Mowbray, Leicestershire, said it "has blown up completely".
This weekend a boot camp for pub-goers will be hosted on Saturday morning, with cocktail making in the afternoon followed by live music and a quiz later.
On Sunday, there will be three music acts and a comedy night.
These will all run through Facebook live videos, except the comedy night where performers communicate through Skype, film it on YouTube and post a link to the page.
She said: "It is pretty much like going to a pub but doing it from your living room.
"They might only nip in for one drink and that is fine, we have all done that."
The 40-year-old added: "We have got an Australian moderator so someone is working through the night on requests.
"There are key workers getting in from work at odd hours and it is a way to connect with people."
Dawn Richardson, from Melton Mowbray, said: "It is keeping me entertained all day.
"I just love it. It has brought people together," said the 37-year-old.
Ray Callcut, 60, said: "It's great. I can speak to my mum and then go back in the pub.
"It's almost like a platform for new talent so when we get out of this, hopefully pubs will be busy with entertainment."