Tom Ballard: Thousands raised for missing climbers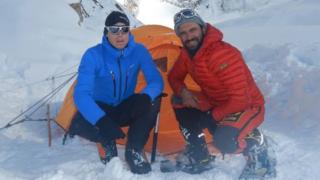 About 110,000 euros (£95,000) has been raised to continue the search for two climbers who went missing on a peak in Pakistan seven days ago.
Briton Tom Ballard and Italian Daniele Nardi last made contact from Nanga Parbat on 24 February.
Tensions between Pakistan and India and poor flying weather have delayed rescue attempts.
The cash will keep funding a helicopter team, which is said to cost about 50,000 euros (£43,000) a day.
Mr Ballard, 30, originally from Belper, Derbyshire, is the son of Alison Hargreaves, who died descending from the summit of K2 in 1995 - the same year she became the first woman to conquer Everest unaided.
A search for Mr Ballard, who moved to Scotland in 1995, and Mr Nardi began on Thursday after delays due to airspace restrictions.
A three-person tent "invaded by snow" was spotted on the same day.
Stefano Pontecorvo, the Italian ambassador in Pakistan, tweeted on Sunday that the search had been postponed again due to snow on the mountain.
Rescue attempts have been frustrated, largely due to the weather, which has meant the helicopter and high-altitude drones cannot fly.
Friends have raised 108,930 euros (£93,819) which will go towards the daily cost of the rescue.
'Lingering hope' of survival on 'Killer Mountain'
By BBC World Affairs reporter Richard Galpin
Nanga Parbat - also known as the killer mountain - is regarded as one of the toughest of all the world's highest peaks, and climbing it in winter presents an even greater challenge.
With temperatures as low as -40C, strong winds and the danger of avalanches, the risks are particularly high.
But both Tom Ballard and Daniele Nardi are very accomplished mountaineers, and there is still some lingering hope they could be found alive.
A Spanish climber, Alex Txikon, who had been attempting a winter ascent of K2, has several high-altitude drones with him.
He has been flown by the Pakistan military to the nearest town to Nanga Parbat base camp.
But the helicopter could not continue its journey because of bad weather, and that means yet another delay in the search for the climbers.
Unused donations will go to schools in Pakistan which Mr Nardi supported.
Kate Ballard, Mr Ballard's sister, said on Facebook: "To those beautiful humans that have asked how they can help. Helicopters, especially in the high mountains of Pakistan are expensive. Anything you can [donate] will add flight time to the rescue."
Follow BBC East Midlands on Facebook, Twitter, or Instagram. Send your story ideas to eastmidsnews@bbc.co.uk.