Yellow Belly beer brewery to end production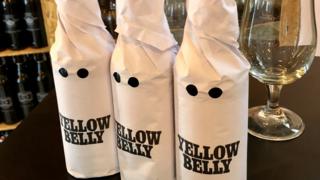 A beer at the centre of a trademark dispute will cease production, its makers have confirmed.
An objection to Yellow Belly, brewed by Derbyshire-based Buxton Brewery and Sweden's Omnipollo, was raised by Batemans Brewery earlier this year.
The Lincolnshire brewery said the name of the imperial stout was too similar to its Yella Belly Gold.
Buxton and Omnipollo said they took the decision after "lengthy" discussions - but Batemans denied it was contacted.
The firms said they spoke to Batemans over the telephone about the dispute, "but it was immediately apparent that there was absolutely no room for manoeuvre".
'Nothing back'
Stuart Bateman said he had wanted to resolve the situation "amicably" but denied any negotiations had taken place.
"We've sent a a pile of correspondence asking to talk about this but we've had nothing back," he said.
"Just a few minutes on the phone might have been enough but we have had no contact - I really don't know what else we could have done."
Mr Bateman said an online backlash in the wake of the dispute was completely unjustified.
Buxton and Omnipollo said the two products were "distinct and entirely different in every conceivable manner".
"Yellow Belly has been brewed annually since 2014 without any apparent confusion arising among the public about who was brewing the beer," they said.
The breweries have an agreement with Sapsucker Farms Yellow Belly Cidery in Minnesota to allow it to continue using the name Yellow Belly in the US.
With the number of breweries globally topping 22,000, Buxton and Omnipollo said creating "truly unique and distinct" beer is becoming more difficult, adding that protecting and honouring intellectual property "is something that all producers have a responsibility to do".
Follow BBC East Midlands on Facebook, on Twitter, or on Instagram. Send your story ideas to eastmidsnews@bbc.co.uk.