Gang jailed for trafficking vulnerable people from Latvia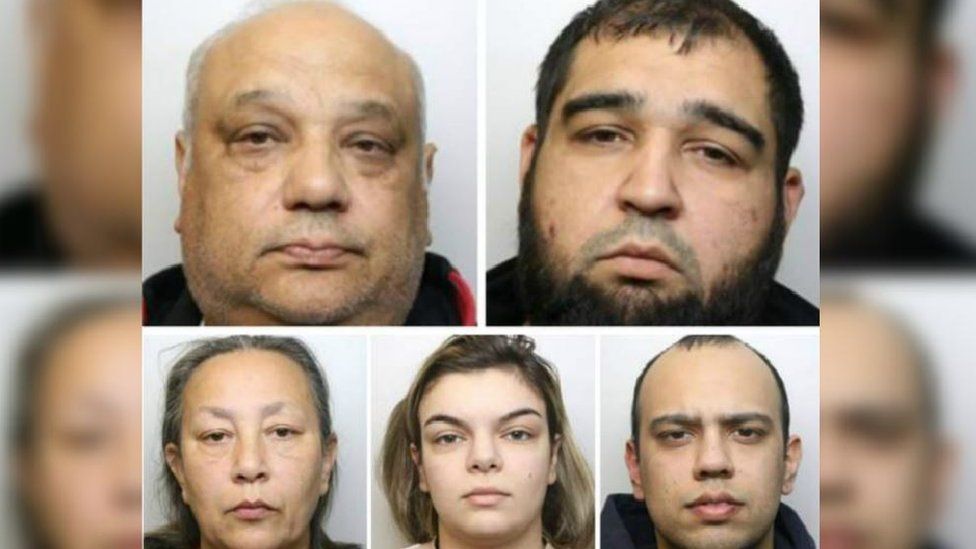 Members of a gang who forced vulnerable people to sleep on a kitchen floor or share a sofa at night, while taking most of their wages, have been jailed.
Over five years, 28 victims were trafficked by the group from Latvia.
Nottingham Crown Court heard the gang was headed by Ainars Pelcis, 54, described as the "gypsy baron" because of his power and wealth.
The nine gang members were handed sentences ranging from six years to one year and two months.
Judge James Sampson said the gang had controlled their victims with "surprising and remarkable" success.
He also described them as "thoroughly greedy and dishonest", but "very clever".
The court heard vulnerable men were recruited on the promise of work in the UK.
When they arrived, they worked in food factories in Derbyshire and were housed in sub-standard accommodation while the gang spent most of their wages on luxury cars and property.
The gang was arrested after police raided homes in Derby and Latvia in September 2017 and February 2018.
During the raid in Latvia, a man in his 60s was found living in a shack without heating in temperatures as low as -16C.
Police said he was made to carry out odd jobs on behalf of the gang.
The gang - comprising five men and four women - originally denied the offences, but changed their pleas seven weeks into a three-month trial.
All nine gang members admitted conspiracy to arrange or facilitate entry into the UK for exploitation and have now been sentenced:
Pelcis, of Rutland Street, Derby: Five-and-a-half years
Ilgvars Pelcis, 33, of St James Road, Derby: Three years and eight months
Karlis Aleksandrovs, 42, of Patmore Square, Derby: Two years
Magdalena Kleina, 55, of St James Road, Derby: Five-and-a-half years
Jolanta Pelce, 37, of Patmore Square, Derby: Two years
Karens Pelcis, 25, Vincent Street, Derby: Six years
Madara Stromane, 24, Rutland Street, Derby: Six years
Andris Krauklis, 39, Vincent Street, Derby: One year and three months
Imitra Didzis, 33, Talsul Tukums Latvia: One year and two months
Det Con Kane Martin said officers were "taken aback by the callous nature" of how the victims were treated.
He added: "We saw first-hand how vulnerable they truly were, and the conditions they were forced to live in while earning money for someone else."
Adam Thompson, senior manager at the National Crime Agency's Modern Slavery and Human Trafficking Unit, said: "This group recruited vulnerable victims with false promises, housing them in appalling conditions and exploiting them ruthlessly."
Linsey Farnsworth from the CPS said the evidence victims provided in court gave a "harrowing account of the human impact of this group's crimes".
Related Internet Links
The BBC is not responsible for the content of external sites.