Derby training firm referred to police after trading ceases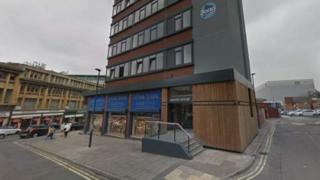 A training provider has been referred to police after it announced it had ceased trading, with 500 jobs at risk.
More than 3,000 Aspire Achieve Advance (3aaa) apprentices also face an unclear future after the firm's Department for Education (DfE) contract was axed.
The department said it had referred its findings to police, through Action Fraud.
3aaa announced it had ceased trading on Thursday, wishing employers, apprentices and staff "all the best".
Peter Marples, one of the founders of the Derby-based firm which offered courses in 34 academies across the country, stood aside from 3aaa last month, saying he wanted to spend more time on his health and his family.
He has now also stepped down as director and chairman of the Spencer Academies Trust, which runs 18 schools in the East Midlands.
'So sudden'
Liam McClelland, 18, from Telford, was 13 months into an IT Level 4 apprenticeship with 3aaa. He was shocked when he learned via an email on Friday that the firm had gone under.
"It was all so sudden. I was in the academy last week and everything seemed fine," he said.
"I was only two months away from finishing my qualification.
"It's very frustrating, and I fear that the last year has been a waste of time and that all the work I have done is useless.
"The qualification would have given me an equivalent to a first year degree and allowed me to progress in the IT sector.
"There's been no support currently and I've heard nothing from the DfE.
"My main hope is that I can transfer the work I have done so far to another provider."
Announcing it had ceased trading on its website, 3aaa apologised "for any inconvenience" and said concerned apprentices, parents or employers could email them.
A Department for Education spokeswoman confirmed it had terminated its contracts with 3aaa and said its priority was "finding new training providers as quickly as possible for the affected learners".
She added: "We have put a specialist team in place to identify new providers and help learners with as little disruption as possible. Following our investigation we have referred our findings to the police, through Action Fraud."
Derbyshire Constabulary said it had received a referral from Action Fraud in relation to 3aaa and "inquiries were ongoing".
The BBC contacted 3aaa for comment, but has had no response.
However, the directors told the Derby Telegraph in a statement that the Education Skills Funding Agency (ESFA) told them they would no longer provide progress payments for learners, and added: "This immediately removes the ability for the company to continue to operate."
They said in the "extreme circumstances" they had no option but to close the business.
Follow BBC East Midlands on Facebook, on Twitter, or on Instagram. Send your story ideas to eastmidsnews@bbc.co.uk.