Ilkeston street attack woman 'stalked then left for dead'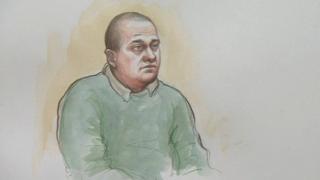 A woman was "left for dead" after being raped and throttled by a stranger, a court has been told.
The victim was attacked in Ilkeston, Derbyshire, after getting off a bus early on 26 November.
Anthony Dealey, 43, who denies offences including attempted murder, was "stalking the streets" and showed her "no mercy", Derby Crown Court heard.
DNA was "more than a billion times" more likely to be Mr Dealey's than anyone else, the jury was told.
Mr Dealey, of Erewash Square, Ilkeston, was captured on CCTV wearing a grey hooded top outside a bookmakers at 03:10 GMT on the morning of the attack, the court heard.
Gordon Aspden, prosecuting, said "He was out and about on foot stalking the silent streets of the town".
The woman, aged in her 30s, was returning from a birthday party at about 04:00 when she heard footsteps and heavy breathing behind her shortly before she was attacked.
Mr Aspden told the court Mr Dealey's hands were "around her throat, stifling her cries."
After the attack the defendant then allegedly went through the contents of her handbag.
"He left her for dead in that wretched state and pitiful state," Mr Aspden said.
"He showed her no mercy."
'Fingerprints on handbag'
The court was told a couple heard cries and found the victim on the pavement.
A recording of their call to the emergency services was played to the jury, in which the victim was able to give some details of the attack.
In a video interview played to the court, the victim was physically sick while answering questions about what happened.
"He was squeezing my windpipe and I was choking. I thought I was dying," she said.
As well as DNA, fingerprints found on the handbag were a match for the defendant, the jury was told.
Mr Dealey denies attempted murder, rape, sexual assault and robbery.
He admits walking through Ilkeston that night but claims to have been home by 03:00.
The trial continues.