Drug dealer Alan Yeomans' seized valuables were sold at auction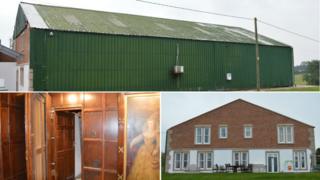 Thousands of pounds worth of artwork, watches and furniture found at a drug dealer's hidden luxury house have been sold at auction.
Alan Yeomans had disguised his £1.2m six-bedroom mansion, Shedley Manor, as a farm shed to avoid planning laws.
Police described it as an "Aladdin's Cave" when they raided it and the items have now sold for a total £65,000.
Yeoman, from Yeaveley, Derbyshire, was jailed in 2016 for money laundering and drugs offences.
The 61-year-old had told officials he was bankrupt, living in a shed at the bottom of his mother's garden and all he owned was £300 of furniture and a £30 watch.
However, when police raided the house they found designer handbags, several pairs of Jimmy Choo shoes, antique furniture, vintage wines and several paintings.
Police said behind three large 16th Century oil portraits they found a secret room where Yeomans had been growing £40,000 worth of cannabis, which he had powered by stealing electricity from a nearby source.
Auctioneers, John Pye Auctions, had said the sale of the luxury items could provide some bargains for art and fashion lovers.
They said the £18,000 gold Rolex watch Yeomans had claimed was worth only £30 had fetched £15,600 at the sale.
Meanwhile the oil paintings in elaborate frames sold for £7,150 and three bottles of 1996 red wine were bought for £1,450.
During his trial at Derby Crown Court two years ago, Judge Nirmal Shant branded Yeomans "a liar" and a "fraudster".
He has been ordered pay a confiscation order of £650,000 or face a further five-and-a-half years in prison.
Follow BBC East Midlands on Facebook, Twitter, or Instagram. Send your story ideas to eastmidsnews@bbc.co.uk.