Family racks up £21k medical bill on 'holiday from hell'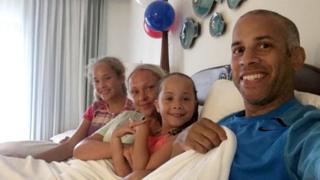 A family's dream holiday turned into their "worst nightmare" when three of them fell seriously ill, racking up £21,000 in medical bills.
Dominic Pitter and wife Emily, from Derby, were in Jamaica with their two children when Mr Pitter was rushed to hospital for a life-saving operation.
His 12-year-old daughter Amelia later fell ill with acute gastroenteritis.
Mr Pitter's father Len then flew out to be at his son's bedside but suffered a heart attack while snorkelling.
Teacher Mrs Pitter, 42, said: "What we hoped would be a well-earned holiday of a lifetime in paradise ended up being any family's worst nightmare with three family members receiving emergency medical treatment."
The family arrived at the five-star Beaches Resort in Negril on 22 July for a two-week holiday.
Mrs Pitter said after lunch the next day, her husband was in so much pain she had to call a nurse.
The nurse contacted a doctor and he was administered morphine and steroids via a drip.
"We later discovered Dominic had suffered a perforated bowel; it could have happened at any time but decided to occur while we were on holiday," said Mrs Pitter.
You may also be interested in:
Mr Pitter was admitted to hospital in Montego Bay, 50 miles away, and underwent life-saving surgery in which 25cm of his bowel was removed.
"We then had to pay around £16,000 in costs upfront so he could be taken to hospital and have life-saving surgery," Mrs Pitter said.
"I was unable to actually travel to hospital with him as it was the middle of the night and I had the girls. He had to go alone.
"The worst part was not knowing if my husband was alive or not. When I rang the hospital they told me 'We can't discuss anything on the phone'.
"I was powerless but had to carry on as normal for the girls."
Days later, daughter Amelia was diagnosed with acute gastroenteritis and dehydration.
She was put on a drip in the hotel for a night and then the family's youngest daughter, Matilda, aged seven, started being sick and complaining about an upset stomach.
Mr Pitter's mother and father then flew over from the UK to be beside them.
However, Mr Pitter started gasping in the water while snorkelling.
His daughter-in-law said: "I asked him, 'Are you OK?' but he said, 'No'."
He managed to stumble to the hotel and was admitted to the same hospital his son had been discharged from three days earlier.
The family racked up a £21,000 medical bill, which insurers have refunded.
Mrs Pitter added: "The experience has made us realise how lucky we are to have the NHS."
Follow BBC East Midlands on Facebook, on Twitter, or on Instagram. Send your story ideas to eastmidsnews@bbc.co.uk.