Mystery of pine marten found dead '100 miles from home'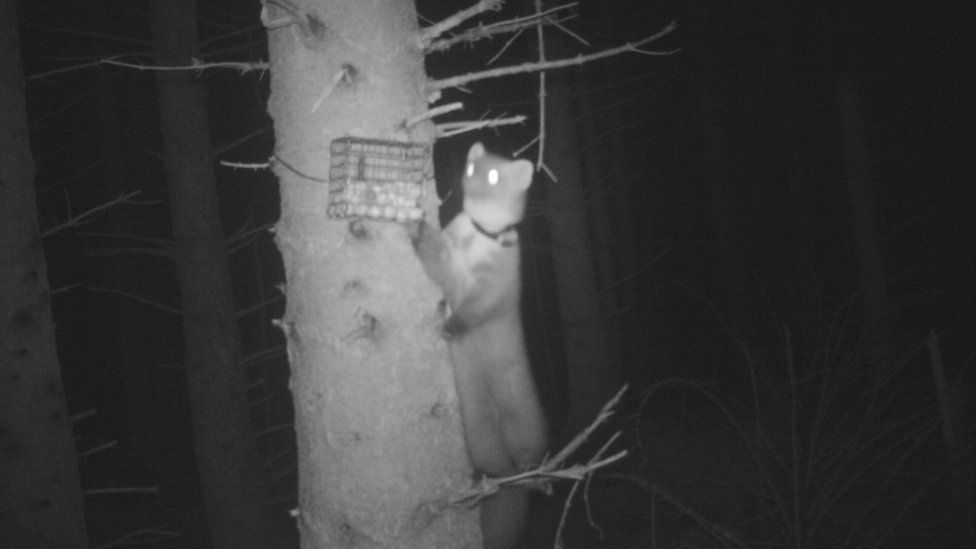 Mystery surrounds the death of a wandering pine marten which was found at least 100 miles from its home.
The male carcass was found by a roadside in Derbyshire at the start of July - the first confirmed sighting of the animal in the county for 16 years.
A DNA test and microchip showed it was "Pine Marten Three", which had been seen near Ruthin, Denbighshire, in May.
The carcass was found by a roadside between Ripley and Belper in Derbyshire. It is not yet known how the animal died.
Hilary MacMillan, from the charity, said pine martens sometimes travel in search of mates, but it is a "mystery" how Pine Marten Three travelled so far.
"It is unusual behaviour - but it did go to north Wales," she said.
"It is a possible another marten could have ousted it but it does not explain why it did not travel a little more north."
She said he could have travelled in the back of a timber lorry or got inside a container.
"It is one of those things we don't know the answer to. It is just a mystery," she said.
There have been 51 pine martens relocated from Scotland to mid Wales between 2015 and 2017.
Pine Marten Three was one of the first to be relocated.
He was taken to Ceredigion then made his own way north to Clocaenog Forest in Denbighshire.
Derbyshire Wildlife Trust said the last confirmed sighting of a pine marten in Derbyshire, according to the Derbyshire Mammals Directory, was in 2002.
The trust said it was shot at Baslow and is now a taxidermy specimen on display in Sheffield Museum.
It was once the second most common carnivore in Britain, but loss of habitat, the fur industry and culling has driven the species close to extinction in England
Whilst the pine marten population in Scotland is recovering and expanding, the marten population in England and Wales has shown no sign of recovery and the likely outcome is extinction
Relatives include weasels, polecats and otters
Similar in size to a small cat
Diet includes small mammals, fruit, birds, eggs and insects
Mate in July and August and up to five young (kits) are born the following spring
They can travel five miles in one night when hunting and territories for males could be up to 11.5 sq miles
They live to the average age of 10
They are elusive, nocturnal and very shy
Related Internet Links
The BBC is not responsible for the content of external sites.