Cathedral defends screening The Wicker Man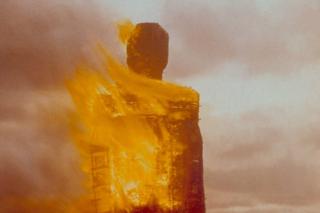 A cathedral has defended its decision to screen two films which include a graphic sex scene, full female nudity and a Pagan sacrifice.
Some Christians believe that showing horror film The Wicker Man and the thriller Don't Look Now at Derby Cathedral is inappropriate.
Wardens from other churches have called for the screenings to be cancelled.
However, the Dean said the films won't be "showing God anything that he hasn't seen before".
"They are actually really powerful stories about faith and doubt and some of the things people wrestle with," the Very Reverend Dr Stephen Hance said.
He added the cathedral was "for everybody" and it needed to serve a wide range of people in Derby.
"The first thing we're trying to do is open the cathedral to new people," he said.
"It doesn't just belong to the people who go to church; it certainly doesn't belong to me; it doesn't just belong to religious people.
"This is Derby's cathedral and it needs to serve the needs of the people of Derby, as wide a range of the people of Derby as we possibly can."
---
Why are people objecting?
The Wicker Man, from 1973, centres on a devout Christian police officer who goes in search of a missing girl on an island where the inhabitants turn out to be practising paganism.
It famously includes scenes in which Britt Ekland's character is shown dancing naked, and Edward Woodward's character is burned to death inside a giant wicker man.
Don't Look Now, also from 1973, includes a graphic sex scene which was cut from the film by the BBC when it premiered on television.
Over the decades many observers have suggested that the leading actors, Julie Christie and Donald Sutherland, were having unsimulated sex, although Sutherland has always rejected this.
Steve Dunning, a church warden from within the diocese of Derby, said: "I just think it isn't appropriate to show these films in a place of worship that is consecrated and hallowed, and therefore it compromises the spiritual integrity of the cathedral.
"There is also a broader issue in terms of, why does the cathedral need to show films when there are multiplex cinemas in Derby?"
Kristin Simmons, a deputy warden from another church, said: "Derby Cathedral is a reflection of every parish church in Derbyshire.
"Of course the cathedral can and should be open and used for outside events, but they should not be adverse to the Christian perspective; the cathedral is primarily a place of worship.
"One film depicts a human sacrifice of a Christian man who recites Psalm 23 and 'curses' people upon his death, and in the other, the protagonist is employed to restore a church building; it involves séances and communication with the dead and a very explicit sex scene.
"As someone else pointed out to me, Holy Communion will be celebrated nine hours later in the same seats."
---
The films were chosen by Dr Alex Rock from the nearby Quad cinema, who is a member of the congregation himself.
"I have a really good relationship with Derby Cathedral and care about it a lot, and I thought this was a really good opportunity to stimulate discussion around the space itself and to kind of experience the space in a completely different light," he said.
He described the films as "some of the greatest examples of British cinema that have ever been made".
"This programme is designed to celebrate the heritage of British cinema in a fantastic heritage space," Dr Rock added.
The films are part of a season of film screenings called Quad in Residence at Derby Cathedral, which begins on 7 September.
Other films include Monty Python's Life of Brian, a religious satire telling the story of a man who is mistaken for Jesus, and which has itself sparked controversy in the past.
Sister Act, in which Whoopi Goldberg's character is forced to join a convent, is also being screened.
Follow BBC East Midlands on Facebook, on Twitter, or on Instagram. Send your story ideas to eastmidsnews@bbc.co.uk.