'Shocking' photos show children on level crossing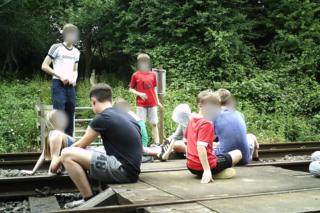 "Shocking" images showing children sitting and playing on a level crossing have been released.
The group can be seen lounging on the tracks at Wing, Rutland, where trains pass at 60mph (97km/h).
Network Rail said the images showed a "complete disregard" for safety, and urged parents to speak to their children about the dangers.
There have been more than 2,000 incidents involving young people on level crossings in five years.
It says it has "installed new warning posters nearby" since children were pictured playing on the crossing in Rutland, and is "carrying out a review" of the crossing.
Community safety manager Vicki Beadle said: "Level crossings are there to keep you safe and we cannot stress enough the danger children are putting themselves in when they choose to misuse a level crossing."
Network Rail recently decided to close a level crossing in Matlock Bath, Derbyshire, because people would not stop posing on the railway line for photos - despite being warned.
You may also be interested in:
There are around 6,000 level crossings in the UK and Network Rail has a legal duty to assess, manage and control the risks of them.
It has closed 1,100 level crossings between 2009 and 2017 and improved safety at others by installing barriers and better warning systems.
Follow BBC East Midlands on Facebook, on Twitter, or on Instagram. Send your story ideas to eastmidsnews@bbc.co.uk.