Cyclist dies after Derbyshire pothole road crash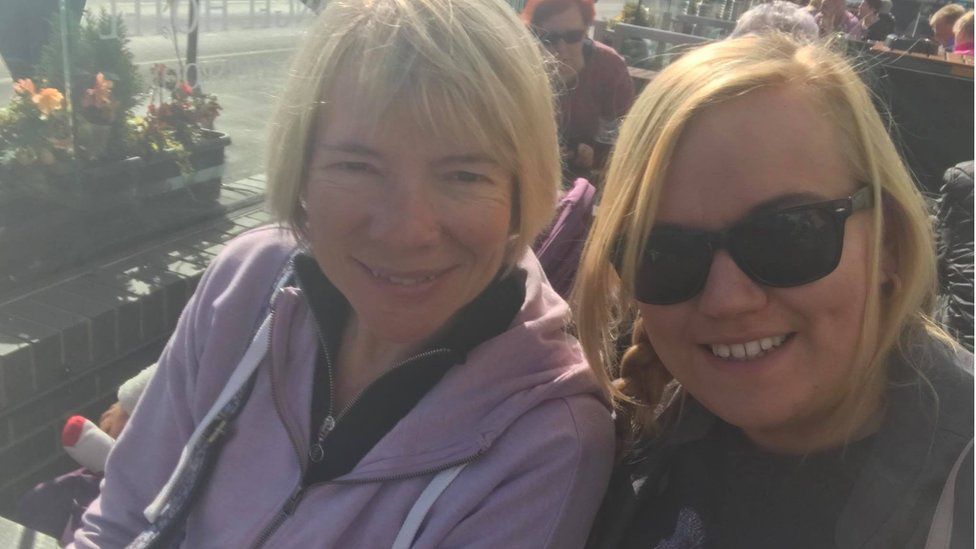 A cyclist who was thrown from her bike after riding over a pothole has died, her family has said.
Carolyn Dumbleton, who runs a takeaway in Lincoln, was taken to hospital by air ambulance from Willersley Lane in Cromford, Derbyshire, on 8 July.
It is understood the crash happened after she hit a manhole cover inside a pothole.
In a Facebook post, her daughter Sammy said she was with her mother when she died on Friday afternoon.
Ms Dumbleton said her mother had suffered injuries to her neck and spinal cord that caused a heart attack, and despite the efforts of a passing couple who performed CPR her brain had been starved of oxygen for too long.
She posted a message on Friday which said: "I laid in my mum's hospital bed and held her close to me till the very end and told her to be brave and not to be scared and that it was ok she could rest now.
"My mum's organs are being donated and she is saving lives as I write this and that makes my mum a hero!
"I love you mum now forever and always don't worry I got things from here."
Ms Dumbleton had said her mother had put up the "fight of her life" and thanked friends, family, police and hospital staff for their "amazing support".
Brian Rick, who was cycling with his son Darren, said he also came off his bike on the same stretch of road hours before Ms Dumbleton.
The 72-year-old spent eight hours in hospital in Derby after his crash, and revisited the scene with his family after suffering flashbacks.
Darren said the road had been in a poor condition and "needed fixing".
Derbyshire County Council, which resurfaced the road on Thursday, said it was "sorry to hear about this accident" and is "in discussion with the police about the circumstances".
A spokesman for the authority said an inspection in February found "no damage" to the road, and after a member of the public raised concerns in May repairs had been scheduled for "later in the summer".
Derbyshire Police confirmed it was investigating.
Related Internet Links
The BBC is not responsible for the content of external sites.