Peak District hen harriers breed for the first time in four years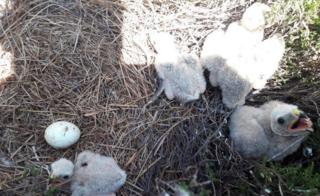 Rare hen harrier chicks have hatched in the Peak District for the first time in four years.
The birds are one of the "most illegally persecuted" in the UK according to the National Trust, and efforts have been made to help them in the High Peak in Derbyshire.
They are famed for their "sky dance" aerobatic courtship displays.
The National Trust said it was now "critical" the raptors were given space and security to rear their young.
In 2016, a video emerged apparently showing an armed man using a decoy bird to attract a hen harrier.
Jon Stewart, the National Trust's general manager, said the charity was "delighted" about the nest and the "healthy condition" of the four chicks.
"The hen harrier has been one of the most illegally persecuted birds of prey in Britain," he said.
"It is critical the birds are now given the space and security to rear their young without the threat of disturbance or worse."
The film purporting to show an armed man trying to attract a hen harrier was recorded in February 2016, and led to a grouse shooting tenant having his lease terminated.
Raptor Persecution UK which shared the footage said news of the chicks was "very encouraging".
A spokesperson said: "It's early days, of course, but the fact the harriers have been 'allowed' to settle for a breeding attempt is a vast improvement in this part of the Peak District."
The National Trust leases much of its High Peak moorland for grouse shooting, but said tenants have signed up to support its High Peak Moors Vision to restore wildlife.
It said signs were also promising for other species such as the peregrine falcon, merlin and short eared owl.
The hen harrier chicks will be fitted with satellite tags to monitor their progress.
Follow BBC East Midlands on Facebook, on Twitter, or on Instagram. Send your story ideas to eastmidsnews@bbc.co.uk.