Peak District sky lantern fest is moorland 'fire risk'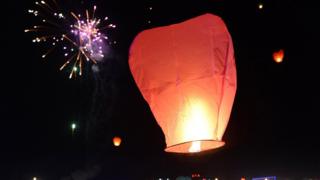 There are calls for a sky lantern festival to be cancelled in the Peak District following major fires across moorland in England.
The Lights Fest is due to be held at Buxton Raceway, close to the moors in Derbyshire, on 28 July.
The Peak District National Park said moorland fires were "lethal" to wildlife and lanterns only increased the risk.
The event organiser said the lanterns it uses do not pose a fire hazard.
Ruth George, the Labour MP for High Peak, said the festival should be cancelled due to the fire risk in the heart of the "environmentally sensitive" Peak District and has written to the organisers asking them to withdraw the event.
Derbyshire Fire & Rescue also said it was trying to dissuade the organisers from going ahead following wildfires at Saddleworth Moor and Winter Hill.
The Derbyshire Events Safety Advisory Group said it had also expressed its concerns to the organisers and is awaiting a "definitive fire risk assessment".
The Peak District National Park said sky lanterns increased the risk of fire on dry moorland and were "devastating to the landscape, lethal for wildlife and a threat to people and homes".
The Lights Fest, which is run by a US-based company, has not responded to questions asked by the BBC.
However, on its website it claims its "flame retardant" lanterns are biodegradable with a "limited burn time" and are therefore not a fire hazard.
The owner of the proposed venue, Buxton Raceway, has yet to comment.
An industry code of practice, introduced in 2014, requires sky lanterns to be manufactured so they are safe and biodegradable and also calls for them to be sold responsibly.
Some retailers have stopped selling them altogether and a number of local authorities and event organisers have banned them.
Despite the code, the National Fire Chiefs Council remains opposed to their use.
A similar event at Belvoir Castle, Leicestershire, was cancelled following a petition which claimed the lanterns could hurt livestock and cause damage to plants and properties.
Follow BBC East Midlands on Facebook, on Twitter, or on Instagram. Send your story ideas to eastmidsnews@bbc.co.uk.