YouTuber Alison Chabloz guilty over anti-Semitic songs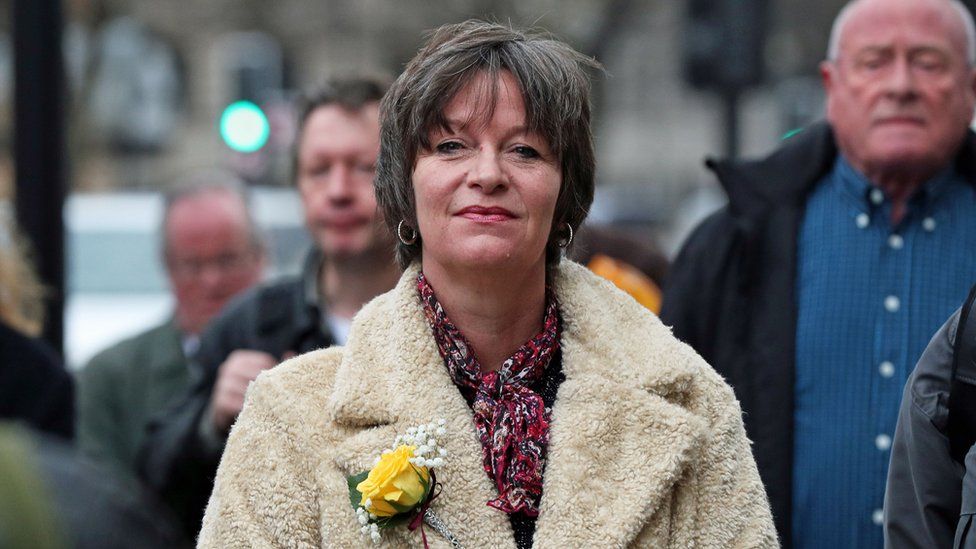 A blogger has been found guilty of broadcasting anti-Semitic songs on YouTube.
Alison Chabloz, 54, from Glossop, Derbyshire, wrote and performed three songs about Nazi persecution, including one about the young diarist Anne Frank.
Chabloz claimed the Holocaust was "a bunch of lies" and referred to Auschwitz as a "theme park".
She was warned she may be jailed at her sentencing on 14 June. There was scuffle outside court.
Chabloz was convicted of two counts of sending an offensive, indecent or menacing message through a public communications network.
She was further convicted of a third charge relating to a song on YouTube.
District Judge John Zani, sitting at Westminster Magistrates' Court, said the offences were serious and "the custody threshold may well have been passed."
When the verdict was given supporters of Chabloz shouted "shame" from the public gallery.
Chabloz was released on bail on the condition she was placed on a night curfew at her home and does not leave England and Wales.
When Chabloz left court there was a scuffle and heated arguments outside, before police arrived to keep the peace.
The Campaign Against Anti-Semitism initially brought a private prosecution against Chabloz, before the Crown Prosecution Service took over.
Gideon Falter, the group's chairman, said: "Alison Chabloz has dedicated herself over the course of years to inciting others to hate Jews, principally by claiming that the Holocaust was a hoax perpetrated by Jews to defraud the world.
"She is now a convicted criminal. This verdict sends a strong message that in Britain Holocaust denial and anti-Semitic conspiracy theories will not be tolerated."
A CPS spokesman said it first became aware of the private prosecution in December 2016 when Alison Chabloz's solicitors asked the CPS to take it over and stop it.
However, in 2017, the CPS determined the case should continue and Alison Chabloz was prosecuted.
Chabloz, who describes herself as a Holocaust revisionist, said her music was "satire" and had previously told the court there was "no proof" gas chambers were used to kill Jewish people in World War Two.
However, prosecutors said three of Chabloz's songs, including one which referred to the notorious Nazi death camp Auschwitz as a "theme park", were criminally offensive.
Another song included a section set to the tune of a popular Jewish song Hava Nagila.
The defence had told Judge Zani his ruling would set a precedent on the exercise of free speech.
Chabloz had claimed many Jewish people found her songs funny and that no-one was forced to listen to them.
Related Internet Links
The BBC is not responsible for the content of external sites.