Royal wedding talk 'forbidden' at Derby pub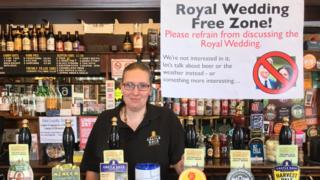 A pub has forbidden all talk of the royal wedding and if you do mention Prince Harry and Meghan Markle a charity box will be "shook at you".
Anna Dyson-Edge, landlady of the Alexandra Hotel in Derby, said the ban was for the benefit of her regulars who are sick of hearing about the event.
"We thought we'd give them somewhere to come to not hear about it," she said.
In 2011, mentions of the wedding of Prince William and Kate Middleton were also banned by the pub.
Mrs Dyson-Edge said: "It's everywhere, it's all over the papers, everywhere you look, television, everywhere is full of it, and people just want somewhere to come where there's nothing about it.
"If you talk about it you will get the charity box shook at you. Flout the rules and this is what you get.
Mrs Dyson-Edge and her husband Ralf, have had the ban in place since the wedding date was announced.
She said: "You need to raise money for charity, that's what it's about. When I'm here they don't get away with it."
All the proceeds will go to the Macmillan unit at the Royal Derby Hospital where Mrs Dyson-Edge's grandmother died in 2011.