Search for 'Mick and Wendy' after presents found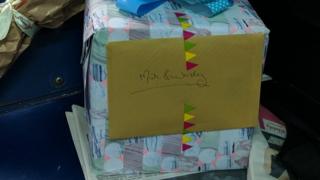 A train conductor who found a present, card and flowers addressed to "Mick and Wendy" is trying to help them reach the unknown couple through social media.
They were left on board the 17:39 BST from Newark Castle in Nottinghamshire to Matlock in Derbyshire on Tuesday.
Ben Mousley found them in an overhead luggage rack at about 19:30 and handed them in at Nottingham station.
He thinks they could be for a couple celebrating a wedding anniversary.
"It just seems a shame for a lovely present to travel so far and not reach its intended recipients," he said.
"The flowers were from a London florist and couldn't have been cheap."
Mr Mousley tweeted a photo of the gifts in an effort to trace the couple, which has been retweeted by East Midlands Trains.
"With them [the flowers] being perishable, I asked East Midlands Trains to help so we could get the ball rolling in time," he said.
The photo has reached more than 100,000 people on the BBC East Midlands Facebook page and some people have tagged friends they think they might belong to.
However, nobody has yet come forward to claim the presents.
"If I were to hedge my bets, I'd say someone either went to London for the day or came from London to visit Mick and Wendy," added Mr Mousley.