Conservatives to run Derby City Council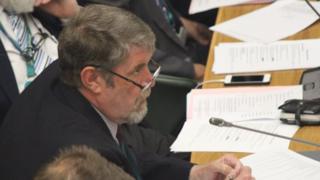 A deal has been reached which will see the Conservatives running Derby City Council, with Lib Dem and UKIP backing.
Labour lost control of the local authority after the election on 3 May, when the council's Labour leader Ranjit Banwait also lost his seat to UKIP.
Chris Poulter will form a cabinet of Tories for now. However, they intend to move to a committee system in future.
This deal is subject to a vote in the council chamber next week.
The Tories said the committee system would mean "less conflict and more consensus-building" at the Council House.
The party will aim to form a minority administration - they have 20 councillors rather than the 26 needed for a majority - and the Lib Dems and UKIP will vote for the Tories' choice of leader, Mr Poulter.
The Lib Dems and UKIP bring eight votes to the party, which means they can outvote Labour, currently the largest group.