Chesterfield teacher banned after 'massaging' pupils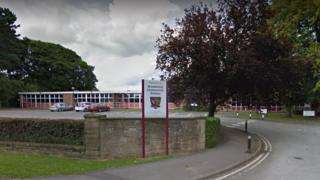 A teacher who "massaged" his pupils and made lewd comments in lessons has been banned from teaching.
A panel found Mark Rodda guilty of "unacceptable professional conduct" during his time at Brookfield Community School in Chesterfield, Derbyshire.
His behaviour had a "detrimental and negative effect on pupils", the Teaching Regulation Agency (TRA) ruled.
The school said it acted promptly as soon as it became aware of the allegations.
East Midlands Live: 'Taxi driver' rapist found guilty; Fantasy football success for cricket star
Between January and May 2017, Mr Rodda was alleged to have engaged in inappropriate physical contact with one or more pupils while employed as a science teacher at the school.
A TRA panel heard evidence from several students, including one who said the teacher had massaged a classmate's shoulders for "a good 10 seconds at least".
The panel found the allegations proven and ruled Mr Rodda had also touched students' hair and faces and put his arms around them.
During the hearing, the panel heard evidence that Mr Rodda told a pupil he had "not hit puberty" and said to another he was going to "snap his neck".
In addition, the panel ruled Mr Rodda and been dishonest when applying for the position at Brookfield Community School by not revealing he resigned from his previous school ahead of another disciplinary hearing into his conduct.
The teacher had not shown remorse for his behaviour, the panel added.
Following the hearing, Mr Rodda was given an indefinite ban from teaching in any school or sixth form college in England.
Steve Edmonds, head teacher at Brookfield Community School, said: "The safety and welfare of our pupils is our paramount concern.
"As soon as we were made aware of the allegations we acted promptly in suspending Mark Rodda, taking all the appropriate disciplinary action in accordance with the school's policies and in consultation with all the relevant authorities."