Peak District wild fire destroys dozens of bird nests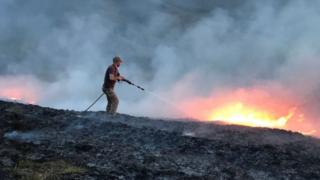 A "devastating" wild fire has destroyed an estimated 40 to 50 bird nests and about 40 hectares of moorland.
Five members of the Peak District Moorland Group and 30 firefighters fought the blaze in the Goyt Valley, Derbyshire, after it broke out at about 18:00 BST on Sunday.
Gamekeeper Richard Bailey said fire crews at the scene thought it was started deliberately.
He said curlew, grouse, pipit, short-eared owl, and duck nests had gone.
Canadian goose and mallard nests were also destroyed in the fire and many grouse pairs, which are very territorial birds, were seen at the edge of the fire, Mr Bailey said.
On the fire service's records, the cause has not been recorded, however, Mr Bailey said the on-scene firefighters' assessment was that it was deliberate.
Mr Bailey said he also scanned the area where the fire started and there was no evidence of an accidental cause.
"I would be 85% to 90% sure that it was a deliberate attempt of arson," he said.
The gamekeeper, who went straight to the scene after smelling the smoke from his house, said: "It is a disaster."
He added that curlews were on the red data list for the British Isles, meaning they were birds of the highest conservation concern.
Mr Bailey, who manages the Goyt Valley, explained that different parts of the land had different lengths of heather, which created a mosaic affect and a range of habits for wildlife.
"It will take 10 to 15 years to get that mosaic again," Mr Bailey said.
"Nature is resilient. It will bounce back but it should not have happened.
"It should be down to users to be responsible."