Chesterfield nurse struck-off after posing in sex snap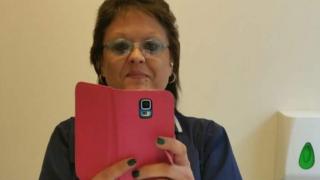 A nurse who posed for a photograph at a care home while imitating a sexual position has been struck-off.
Michelle Vaughan posed with a man in the residents' lounge of Tapton Grove, Chesterfield, while a resident was dying in a nearby room.
The Nursing and Midwifery Council (NMC) also found Ms Vaughan had tried to purchase cocaine while on shift.
Sun Healthcare said the company acted "robustly" and "very swiftly" once it was made aware of the allegations.
At a hearing, the NMC's fitness to practise committee described Ms Vaughan's actions as "deplorable" and said her behaviour "fell far below the standards expected of a registered nurse".
The photograph was posted on Facebook, but the panel could not prove who had shared it.
The panel dismissed Ms Vaughan's explanation that she had been picking up a pen.
In February 2017, Ms Vaughan sent text messages to a colleague in an attempt to purchase cocaine.
The nurse suggested the Class A drugs could be delivered to the back door of the home, which provides care for adults with "enduring mental health needs".
Evidence given at the hearing also alleged Ms Vaughan had slept on duty "on a number of occasions" and had failed to administer medication and maintain records correctly.
A director of Sun Healthcare, which runs Tapton Grove, said the company reported Ms Vaughan to the NMC after dismissing her once the allegations were fully investigated.
Sarah Chell, manager at Tapton Grove, said the home had "tried to support [Ms Vaughan] to improve" but added they were "left with no option but to report it".