Labour lose Derby City Council to no overall control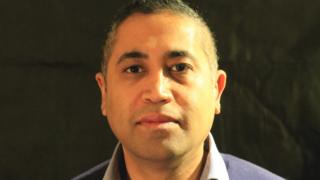 The Labour leader of Derby City Council lost his seat to UKIP as the party lost control of the local authority.
Labour remains the largest group with 23 seats but has no overall majority.
The Conservatives won two new seats bringing their total to 20 while the Liberal Democrats remain on five and UKIP three.
Elsewhere, the Tories strengthened control of Amber Valley Borough Council, a Labour target which only needed a small swing to change hands.
East Midlands Live: Ranjit Banwait 'lost touch with the people'; UKIP celebrate Derby success
Voters were electing one third of Derby City Council, with 17 of 51 seats up for grabs.
Bucking the national trend, UKIP held on to one of its seats and took another from Labour, increasing its group to three councillors on the authority.
Labour lost both its leader Ranjit Banwait, who was not at the count, and the mayor John Whitby on a night to forget for the party.
The leader of the Conservative group on Derby City Council said Mr Banwait's downfall was "inevitable".
Councillor Matthew Holmes said he had "lost touch" with the people of Derby and he has now "paid the price."
However, Martin Rawson, the deputy leader of the council, said Mr Banwait had worked hard on behalf of his constituents.
UKIP's former deputy chairwoman Suzanne Evans said unseating Mr Banwait "put the cat among the pigeons".
The Conservatives successfully defended five seats while also taking Chaddesden and Mackworth from Labour and Derwent from UKIP.
The Lib Dems held on to both of its wards and retains five representatives on the council.
Meanwhile, the former leader of Amber Valley Paul Jones lost his seat in Heanor West by 28 votes - one for every year he had held the ward.
Labour needed just a small swing away from the Tories to take control of the local authority, but ended up losing two seats.
With 15 of the 45 wards up for grabs, Labour took eight of the 10 it was defending while the Tories won seven.
It means the Conservatives increased its number of councillors to 25 while Labour has 20.
---
Analysis: Chris Doidge, political reporter, BBC Radio Derby
Labour has lost control of Derby City Council and its leader, Ranjit Banwait, has lost his seat. We simply don't know who will run Derby now.
Labour are three seats short of a majority and the Conservatives are six seats short of a majority. So whichever of them takes charge will need help.
The mayor of Derby, Labour's John Whitby, lost his seat last night. He predicts trouble.
He told me: "Who knows now? It will be complete chaos, I imagine, because it will be no overall control. I don't know what's going to happen."
---