Derby murder accused 'hears voices' trial told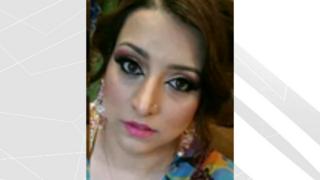 A Derby man accused of beating his partner and leaving her to die in a bath suffers from hallucinations and hears voices, a court has heard.
Ataul Mustafa's defence called three consultant psychiatrists who all said he showed signs of paranoid schizophrenia.
Derby Crown Court heard his symptoms included laughing, delusions and believing there was a plot against him.
He had previously been diagnosed with the condition, the jury heard.
The court had been told earlier that Mr Mustafa, who denies murder, subjected Sohbia Khan to beatings as soon as she moved into his Normanton home in April 2017.
The jury heard Mr Mustafa was given a hospital order in 2009 for causing grievous bodily harm with intent to his former wife.
He was diagnosed with paranoid schizophrenia but released into the community in 2015.
Appearing for the defence, the psychiatrists said they interviewed Mr Mustafa after his arrest and described him as laughing, hallucinating and hearing voices.
They also said he told them there was a conspiracy against him. All felt his symptoms were genuine, the jury heard.
One psychologist, Dr Mike Harris, said he believed Mr Mustafa's judgement was "substantially impaired".
In earlier evidence for the prosecution a community psychiatric nurse, who monitored the defendant in the community, said she believed Mr Mustafa had "tried very hard to present as mentally unwell".
The prosecution had said earlier that Mr Mustafa subjected Ms Khan, 37, to "domestic violence on a savage scale", including beating her with an iron and a coat hanger.
The trial continues.