Derby junior doctors lose High Court break-time test case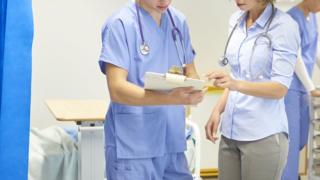 Junior doctors who said a hospital trust failed to make sure they took proper breaks have lost a court case.
The 21 doctors, led by Dr Sarah Hallett, said Royal Derby Hospitals NHS Foundation Trust breached their employment contracts.
Dr Hallett told the High Court the method used to monitor shift patterns returned "skewed" results.
But the judge, Mrs Justice Simler, ruled the trust had acted "responsibly" and encouraged staff to take breaks.
The British Medical Association (BMA) said it is looking to appeal.
"[We] supported this test case to clarify whether trusts breached employment contracts by incorrectly applying monitoring rules," a spokesman said.
"We believe this led to junior doctors' rotas being incorrectly assessed, potentially compromising patient safety and doctors' welfare.
"It is deeply disappointing that the High Court does not agree with our concerns."
The court heard the staff should get a half-hour break for every four hours they are continuously on duty or be paid double for the time.
Dr Hallett said the method used by the trust to monitor shift patterns returned "skewed" results, with one monitoring exercise failing to meet the compliance threshold.
John Cavanagh QC, representing Dr Hallett, said junior doctors' rest breaks was an issue of "general public importance".
NHS lawyers said the claim could have cost the trust £250,000 and open up similar claims from junior doctors across England.
Mrs Justice Simler ruled that the trust had "responsibly" emailed junior doctors to emphasise the importance of taking natural breaks.
In a statement the trust said it is "proud" of its record as a teaching hospital, adding the welfare of its staff "is a major concern for us".
"Today's judgement confirms our belief that we, in line with many other hospitals across England who use this software, were monitoring rotas correctly," they said.