Severn Trent Water fined over River Amber pollution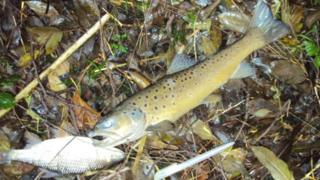 A water company has been fined £350,000 after a chemical spill polluted a river, killing about 30,000 fish.
Severn Trent Water pleaded guilty after a hazardous chemical was released into the River Amber, Derbyshire, in 2015.
Mark Haslam, from the Environment Agency, said the fine at Nottingham Crown Court could have been higher as a "significant" number of fish were killed.
Severn Trent apologised and said it had since "strengthened procedures".
In October 2015, an underground chamber flooded at Severn Trent's Ogston Reservoir treatment plant next to the River Amber, the court heard.
The company uses sodium hydroxide to purify water and this hazardous chemical was released into the river from its discharge pipes during the incident.
The Environmental Agency estimates about 30,000 fish were killed as a result.
Severn Trent had admitted contravening the requirements of an environmental permit at a hearing in April.
During the sentencing, Judge Shaun Smith QC described the case as "lamentable" and "avoidable".
The agency added it would continue to monitor the river and hoped it will recover by the summer.
Mr Haslam said: "In a way they did reasonably well [to be fined £350,000].
"It could have been more in this instance - 30,000 fish were killed so it is significant."
Severn Trent said the company "took its environmental responsibilities very seriously" and it was "disappointed that on this occasion we failed to live up to them".
"We'd like to apologise to the local community and fully accept the judgement of the court," the firm added.
"Since the spill at Ogston we've strengthened our procedures and have reduced the number of serious pollution incidents by more than half since 2011."