Blogger claims 'no proof' gas chambers killed Jewish people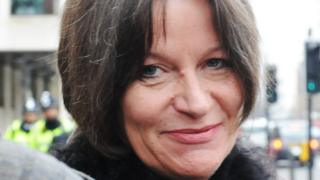 A blogger accused of broadcasting anti-Semitic songs has told a court there was "no proof" gas chambers were used to kill Jewish people in World War Two.
Alison Chabloz, 53, from Glossop, Derbyshire, wrote and performed three songs about Nazi persecution, including one about young diarist Anne Frank.
She described Auschwitz as a "theme park" in one song broadcast on Youtube.
Appearing at Westminster Magistrates' Court, she defended some of her work as "satire" and "art".
At the resumption of her trial, Ms Chabloz told the court she did not understand the term "Holocaust denier" and preferred the phrase "Holocaust revisionist".
During her defence, she said: "My view is that the figures, the six million figures, the alleged homicidal gas chambers, there is no proof of either of these 'non facts' as I would say."
Ms Chabloz denies two counts of sending by a public communications network an offensive, indecent or menacing message or material in relation to two of the three songs.
She also denies two alternative counts of "causing" offensive material to be sent by a public communications network, after her performance was posted on her blog.
Ms Chabloz denies a fifth charge in relation to a third song which describes the Holocaust as a "damn fine tale".
She claimed many Jewish people found her songs funny and that no-one was forced to listen to them.
The trial continues and a decision is expected in May.