Christening photo solves 'remarkable' lost Derby camera search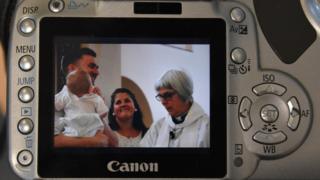 A camera has been reunited with its owner 165 miles from where it was found after photos on it of a christening were recognised.
The camera was handed in to Derbyshire Police who put out an appeal using some of the photos on Tuesday.
They were seen by someone who recognised the priest, who alerted the parents, who said the camera belonged to the father's dad.
Owner David Trotham, from Somerset, said it was "remarkable".
Derbyshire Police said social media appeals were seen by someone who recognised the priest as being from Hornchurch, Essex. which led to Mr Trotham being traced.
Mr Trotham, from Woolavington, near Bridgwater, said: "It really is a remarkable story.
"I had loaned the camera to one of my sons who is taking a degree at the University of Derby.
"He had a fall on his bike last week and we think the camera must have fallen out if his back-pack, although he had not realised it was lost.
"The first I knew about it was on receiving a call from my other son to tell me that pictures of the camera and his christening had appeared on social media."
Mr Trotham thanked both the police and the person who handed the camera in.
He said: "I lost my keys in the house a few weeks ago and can't find them and yet in less than a day my camera is found 165 miles away in Derby."