Royal Derby Hospital baby deaths 'preventable'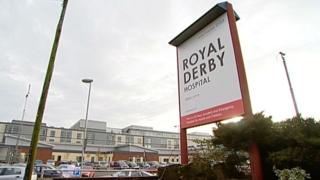 A review into the deaths of dozens of babies at the Royal Derby Hospital between 2013 and 2016 has found many of them might have been preventable.
The Perinatal Institute, which was set up to enhance the safety and quality of maternity care, examined 41 neo-natal deaths and stillbirths.
Nineteen of those deaths may have been caused by care failures, the organisation said in its report.
The hospital's trust has apologised and said it has changed its procedures.
The independent review into a select number of babies stillborn, or who died shortly after birth, between 2013 and 2016, found 19 of the deaths at the Royal Derby "might" or "should" have been avoided.
The Perinatal Institute said opportunities were missed, scans were not performed when NHS guidance said they should be, and worrying symptoms when the baby was in the womb went undiagnosed.
The institute also said mistakes were repeated because the trust's own reviews "missed" key learning points.
However, some good examples of care were also found as part of the review.
Derby Teaching Hospitals NHS Foundation Trust said: "The report has shown that on occasion the care we have offered has fallen short of the expected standard and for this we are sincerely sorry.
"Many of the learning points highlighted in this report have already been identified as part of our Maternity Safety Improvement Plan and have, or are in the process of being, implemented."
Jayne Stringfellow, from NHS Southern Derbyshire Clinical Commissioning Group, said support has been offered to the families affected.
She also highlighted that the report said "significant improvements have been made" and the stillbirth rate at the trust is now "significantly below the national average".