Pair jailed for UK homemade bomb attack plan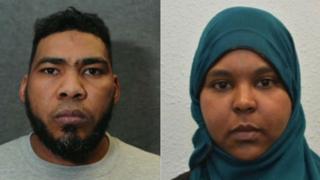 A couple has been jailed for plotting a terror attack in the UK using a homemade bomb.
Munir Mohammed, from Derby, was handed a life sentence, with a minimum of 14 years. Pharmacist Rowaida El-Hassan has been jailed for 12 years.
The trial at the Old Bailey heard the pair met on a dating website and Mohammed used El-Hassan's chemical knowledge to help plan an attack.
The judge said he posed "a significant risk of serious harm to the public".
At the time of his arrest in December 2016, Mohammed had two of the three components for TATP explosives as well as manuals on how to make bombs and ricin poison.
The 37-year-old, of Leopold Street, Derby, had volunteered for a "lone wolf" mission while messaging an IS commander on Facebook.
"You decided the means of your attack would involve you making an IED," Judge Michael Topolski QC said.
"You had not decided whether that would be made with an ordinary bomb or whether you could do more damage and more terror by exploding a device containing ricin."
He added that Mohammed had carefully and deliberately pulled El-Hassan in to the plot, to the point where her commitment was "consistent and sustained".
Analysis: Dominic Casciani, Home affairs correspondent
It is not clear why Munir Mohammed was in the UK given he arrived illegally and, according to evidence in the trial, seemingly lied about having any kind of justifiable claim for asylum.
But once he made that claim, he appeared to have entered legal limbo. He was placed in an immigration removal centre, but then sent to live in the Midlands.
He then used false documents to work in a food factory - while flirting with the idea of making his own poisons.
His application to stay in Britain was in a massive backlog of unresolved asylum cases known to officials as the "not straightforward" list.
The Home Office, the ministry responsible for both immigration and national security, declined to say what happened to Munir Mohammed's case. But what's clear is he sat and waited. And as he waited, he began to plot.
Derby terror plot: The online Casanova and his lover
Mohammed, originally from Eritrea and who lived in Sudan for some time before coming to the UK, investigated making poison while working at a supermarket ready meals factory.
The court heard he and El-Hassan, 33, of Willesden Lane, north-west London, had exchanged messages about ricin after meeting online.
El-Hassan wrote on the dating website she was looking for a simple man whom she could "vibe with on a spiritual and intellectual level".
By the spring of 2016 the pair were in regular contact on WhatsApp and had met more than once in a London park near El-Hassan's home.
The mother-of-two advised fellow divorcee Mohammed on what chemicals he needed for the bomb.
During sentencing, the judge highlighted Mohammed's "vast store" of IS propaganda depicting the "abhorrent" acts of murder, including nearly 26,000 images on his phone.
El-Hassan never objected to being sent the material as her two children slept in her bedroom, and even asked for more, the judge said.
Even though Mohammed introduced extremism in their relationship, El-Hassan "embraced it and became more and more absorbed by it to the point she became an enthusiastic and encouraging partner", he added.