Five arrested over modern slavery in Derby and Latvia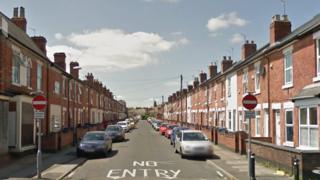 Five people have been arrested during simultaneous raids in Derby and Latvia as part of an investigation into modern slavery and human trafficking.
Two men and two women were arrested at two houses in Latvia on Tuesday, while a 32-year-old woman was arrested at a house in St James' Road, Normanton.
A man in his 60s was found living in a shack in the back garden of one of the houses raided in Latvia.
Six people have already been charged as part of the large-scale operation.
A 32-year-old woman was charged on Tuesday evening and is due to appear before magistrates in Derby.
Two men, aged 25 and 39, and two women aged 23 and 33, who were arrested in Latvia, will be extradited to the UK over the coming weeks.
All five were arrested on suspicion of conspiracy offences linked to slavery, trafficking and exploitation.
Officers believe a man found living in a shack is a victim of modern slavery. He is being supported by the Latvian authorities.
The arrests were made by Derbyshire and Latvian police officers, supported by the National Crime Agency.
Det Ch Insp Rick Alton said: "One man, who we believe to be a victim, was found living in the most appalling conditions I have seen in my career and I am pleased that he is now receiving the help he needs."
Thirteen people have been arrested as part of Operation Doubrava, the "largest modern slavery operation" in Derbyshire.
Eight men and two women were found when officers executed a series of warrants in Derby in September.
Additional victims have since been identified.