Parking fine placed on car where permit was hidden by snow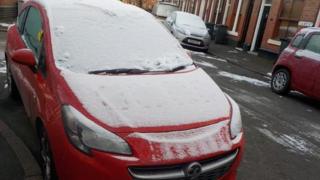 A council has issued a £70 parking fine to a driver whose permit was hidden by the snow on his car's windscreen.
Oliver Claxton, from Chester Green, in Derby, who had been working away in London for a few months, was surprised when he returned home to find he had been fined.
He said he had never moved the permit from his car, so has challenged the fine from Derby City Council.
The council said it was looking into it and would respond to Mr Claxton soon.
Live updates from the East Midlands
Mr Claxton, who works at the BBC, said: "I thought it was odd because if I wasn't displaying it I would have got a parking ticket every day because I had left my car there while I was in London. I was thinking what could it possibly be that meant they couldn't see the permit on this particular day?
"When you go on the website they have the photographs they took and the reason the permit wasn't visible was because it had snowed overnight and the windscreen was covered in snow.
"I just laughed. It was ridiculous."
He added that if they had swept the snow away, they would have seen the permit.
Sue Meakin, who worked as a traffic warden for 30 years, said she thought it was "silly" he had been fined.
Derby City Council said: "We're not able to comment on individual cases but we are looking into the challenge and will be responding to the individual directly soon."
You might also like: