Man rejected for UPS delivery driver job because of beard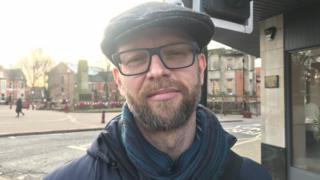 A man was not allowed to apply for a delivery driver job because of his beard.
David Hanger, 48, from Derbyshire, said he was told he was an ideal candidate to work for UPS at a job fair, after telling a company representative about his past experience.
However, at the end of the discussion he was informed he would need to shave off his beard for the role.
UPS said it was company guidelines for its drivers to be clean shaven.
Mr Hanger, from Ilkeston, said he was "taken aback" by the policy.
He said: "It is discrimination because the beard is part of my personality and gives me confidence. I am just really shocked that such a worldwide company such as UPS would adopt such an archaic policy."
He added: "I can understand why some companies might have that policy, if it was working perhaps in the medical or catering industry.
"But in this situation where I am just delivering parcels to businesses and individual customers, I don't see how my appearance with a beard would be offensive to the customer."
'Accepted by employees'
Maz Dannourah, an employment law expert from Fraser Brown solicitors, said: "On the face of it, there is nothing that prevents them from implementing such a policy as banning beards.
"If a beard was to be groomed and maintained for religious reasons then there may well be a case for indirect discrimination, where it isn't I don't think there is that protection."
A UPS spokesman said: "UPS prefers that its drivers, as ambassadors of the company, are clean shaven.
"This is a guideline that is known and accepted by its employees throughout the company and explained to any bearded applicant wanting to work in a customer-facing capacity at UPS.
"Employees may, however, have beards for medical or religious reasons."