William Shatner's Wrath of Khan shirt sells at auction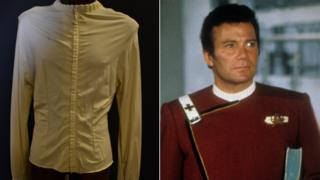 An undershirt worn by William Shatner in the Star Trek film the Wrath of Khan has sold for £2,800 as part of an auction of film and TV memorabilia.
It was among a collection of props, some of which were almost burned by Paramount studios in the 1980s, which went under the hammer.
A Jean-Luc Picard costume from Star Trek: Nemesis, including an undershirt worn by Sir Patrick Stewart, also sold for £2,800.
In total the collection made £50,000.
It consisted of 300 lots and drew more than 1,000 bidders from all over the world.
James Lewis, from Bamford's auctioneers, in Derby, said the level of interest had been "crazy".
"There is a massive demand for this type of memorabilia, people just don't get as excited about an 18th Century sideboard any more," he said.
"Perhaps it is those memories from childhood but they love the celebrity, they love anything to do with TV and film."
The outfits and props came after Paramount had a "clearout".
"They couldn't be bothered with trying to sell them or trying to find homes for them so they just put them in a huge heap and burned them," Mr Lewis said.
He said these were the lucky survivors.
Other items sold included an outfit worn by Dr Beverley Crusher in Star Trek: Nemesis which fetched more than £2,000.
A costume worn by George Takei's character Sulu in the 1989 film Star Trek V: The Final Frontier was sold for £2,200.
Dozens of film posters, collected from the owner's local cinema when he was a teenager, collectively made about £20,000.
They included:
The Italian Job - £1,700,
One Million Years B.C. - £1,600
The Beatles' Help! - £1,300
A Cyberman helmet, believed to have been used in a Dr Who episode in 1968, was withdrawn from the auction.
It had been expected to fetch £10,000.