RSPB blames partners for 'failed' bird-of-prey project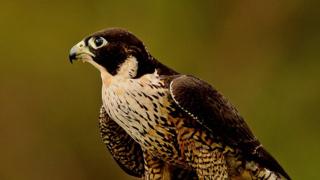 Bird conservation charity the RSPB has quit a "failed" project to protect birds of prey in a national park.
Peak District Bird of Prey Initiative began in 2011 to boost the numbers of birds - known as raptors - in the area.
But the charity said some species numbers had actually fallen and that illegal killing of such birds had not been tackled effectively.
The Moorland Association and the Peak District National Park Authority said they were disappointed at the move.
The initiative, which also includes the National Trust and Natural England, set five-year targets for healthy populations of three species - merlin, peregrine and short-eared owl - and later included hen harrier and goshawk.
But the RSPB said none of these had been met and some species were actually worse off.
'Illegal persecution'
In December it confirmed peregrine falcons had failed to breed in the Dark Peak area for the first time in more than 30 years.
Richard Barnard, RSPB area conservation manager, said: "Despite five years of monitoring data, and the presentation of clear evidence from local raptor groups and the RSPB, some members of the group are still failing to acknowledge that the main reason birds of prey are doing so badly in the Dark Peak is because of illegal persecution such as shooting, trapping and poisoning.
"By refusing to admit the scale of the problem, and its clear link with land used for driven grouse shooting, which is highlighted in numerous studies and reports, these members have frustrated any possibility of progress."
Incidents recorded since 2012 include the deliberate destruction of goshawk nests and eggs, the discovery of a dead bird and shots being fired at nests.
Amanda Anderson, director of the Moorland Association, said: "The RSPB and the rest of the initiative all want the same thing - an improved assemblage of birds of prey across the National Park. We just disagree on how to get there."
The park authority admitted the scheme was "not working" but said it had "taken steps" to work more closely with landowners and gamekeepers.