'Holocaust revisionist' on trial for anti-Semitic songs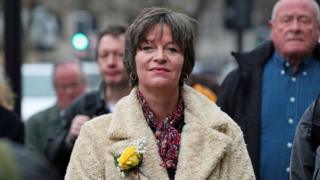 A blogger and self-confessed "Holocaust revisionist" is on trial accused of broadcasting "grossly offensive" anti-Semitic songs on the internet.
Alison Chabloz, 53, from Derbyshire, wrote and performed three songs about Jewish people persecuted by the Nazis, including the young diarist Anne Frank.
Some are set to a Jewish folk tune.
Westminster Magistrates' Court heard Ms Chabloz denied five counts of improper use of the public communications network.
The songs accuse Jewish people of unethical money lending, question whether the Holocaust happened and describe the Auschwitz concentration camp as "a theme park for fools".
Karen Robinson, prosecuting, said this was "an extraordinarily offensive description of perhaps the most traumatic event in Jewish history".
She said the songs "are anti-Semitic, targeted at Jewish people as a whole. They use content and tone to ensure offence. The songs are designed to provoke maximum upset and discomfort".
She added: "By the standards of an open and multi-racial society, they are grossly offensive."
The court heard that two songs were performed at a London Forum Event held at the Grosvenor Hotel in London in September 2016 and uploaded to YouTube days afterwards.
A third song was uploaded to YouTube in September 2017.
As the videos were played in court, a group of Ms Chabloz's supporters in the public gallery applauded.
District Judge John Zani warned them they would be asked to leave if they did so again.
The court heard that Ms Chabloz had been interviewed by police, and accepted that the songs were "close to the bone" but denied they were grossly offensive.
Chabloz, of Charlesworth, Glossop, Derbyshire, told officers that the prosecution was an attempt to limit her free speech.
She denies two counts of sending by a public communications network an offensive, indecent or menacing message or material - in relation to two of the three songs.
She also denies two alternative counts of "causing" offensive material to be sent by a public communications network, after her performance was posted on her blog.
The trial continues.