Derby cordoned-off Christmas tree 'an embarrassment'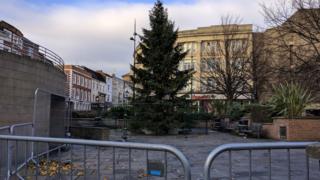 A large cordon placed around a city's Christmas tree for "public safety" has been criticised for looking "horrible".
A wide area of fencing - described by the council as an exclusion zone - has been placed around the sparsely decorated tree in Derby's Market Place.
People have said it is an embarrassment for the city.
Derby City Council said the barriers were there to "enable people to view the tree at a safe distance".
More news from across the East Midlands
On social media, Anne Butler said it was a "disgusting mess" and that it would be better not to have one at all.
Daniel Birkinshaw said: "It looks awful. Why bother? It does not look festive at all. Take it down along with all the railings. Embarrassing to be from Derby."
Ice rink
Sadaf Lily Thould said: "My little daughter was beyond disappointed the other day. She wanted to get a close look and I had to explain we can't."
Emma Lake said it looked "utterly horrible".
A Derby City Council spokesperson said: "We all want to get into the Christmas spirit.
"As well as the Market Place tree, we've got the ice rink on the way, lights up, as well as local businesses embracing the festive period with their own displays, but our number one priority remains to be public safety, which is why these barriers are in place - to enable people to view the tree at a safe distance."
You might also be interested in: