Classic car fans say vehicles 'stripped' by Glossop restorer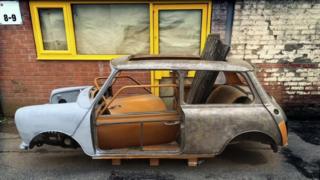 Dozens of car enthusiasts claim they have been defrauded out of hundreds of thousands of pounds by a businessman who vanished after stripping their vehicles for restoration.
About 40 customers say Christopher Handford took their money for work that was not carried out.
Nearly £300,000 is said to have been paid by the customers to North West Mini Motors in Glossop, Derbyshire.
The BBC has repeatedly tried to reach Mr Handford for comment.
The new owners of the garage said he disappeared in October, leaving car parts and other items behind.
Derbyshire Police has confirmed it is investigating.
One 'devastated' owner
Matthew Slater said he was "devastated" when he first saw his cars, which had parts such as doors, steering columns and engines missing.
He says it has cost him more than £20,000.
"I was promised two full restorations and that has just not happened, I just got empty promises," he said.
"I have known him for six years and he should not have done this to a friend, let alone anyone else."
'It went in as a nice car'
Will Taylor also sent a car to Mr Handford, who he befriended through a Mini club, and said it makes him feel "horrible" and "depressed".
"It went in as a nice show car - polished, clean, shiny wheels," he said.
"There's actually more rust on it now than when it went in.
"I considered us quite close friends - obviously friends shouldn't do this to each other."
'One of the fortunate ones'
Beverley Hulme said her family has lost more than £7,000 on a car, which has been in her family for more than 40 years and is in exactly the same state as when she put it on for repairs.
"We're actually one of the fortunate victims in so much as he hasn't actually been touched and we've got [it] back," she said.
"There's a lot of people who are in a lot worse position."
Ms Hulme said after Mr Handford stopped replying to emails she started looking at online reviews, which she said were "quite scary" and prompted her to help others.
"There could be potentially so many more [victims] out there that we can't get hold of," she said.
"It's a case of making sure he doesn't do this again and take money from other people."