HS2 householders accuse surveyors of 'penny-pinching'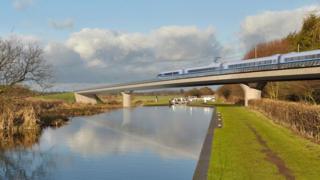 Residents whose homes will be demolished to make way for the HS2 high-speed rail line have accused the project's surveyors of penny-pinching.
Some living in Long Eaton said thousands had been knocked off what they had been offered due to faults such as dips in their driveways.
Some homeowners say it has had an impact on their health.
Paul Griffiths of HS2 said independent surveyors were trying to get the best valuations for the properties.
People living near the line say valuations have ranged from £145,000 to £175,000 for the same house.
Value has been reduced because of issues with driveways and glazing, despite the houses facing demolition, some residents claim.
Roger Lymn, whose house is close to the line, said it had had a "profound impact" on the health of his neighbours.
Erewash MP Maggie Throup, who is in favour of the £55.7bn line, said she was fighting for a better deal for residents.
She said: "It's really concerning [that] people have been offered well below the value of their properties. It's bad enough anyway that people are losing their homes.
"It's really stressful... people can't sleep at night. You can see the pain in their eyes."
Mr Griffiths, the managing director of HS2, said while the process was "upsetting" and "disruptive", it was about getting a "representative figure" for the property.
He said: "This is public money being spent and therefore it has to be justified."