Car crashes into hospital's child outpatients area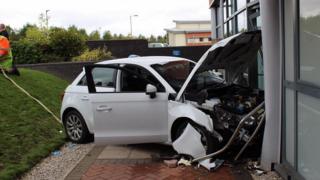 A car has crashed into a hospital building which is used for children's outpatient services.
The hatchback smashed into the door of The Den at Chesterfield Royal Hospital, in Derbyshire, on Tuesday afternoon.
The driver, who is believed to have suffered minor injuries, was attended to by staff before being freed by fire crews.
An investigation into the cause of the crash has begun and there are no reports of other injuries.
The vehicle appears to have travelled from the nearby car park, down a small slope and into the door area.
Commenting on Facebook, hospital employee Alison Moore said: "Good job no one was walking out the door at the time".
Also commenting, Emma Burton from Pilsley in Nottinghamshire, said: "I was in the den with my children when it hit 😭. All the staff were quick to respond and we got evacuated and moved to another room and carried on our appointment as normal! Thank you xx."
In a statement, the hospital said: "Investigators will determine what happened to cause the incident, but rest assured it wasn't an intentional act.
"We're just glad that no-one was badly injured - buildings are much easier to fix than people! Great team effort as always."