Derby flower seller 'railroaded' for new TK Maxx store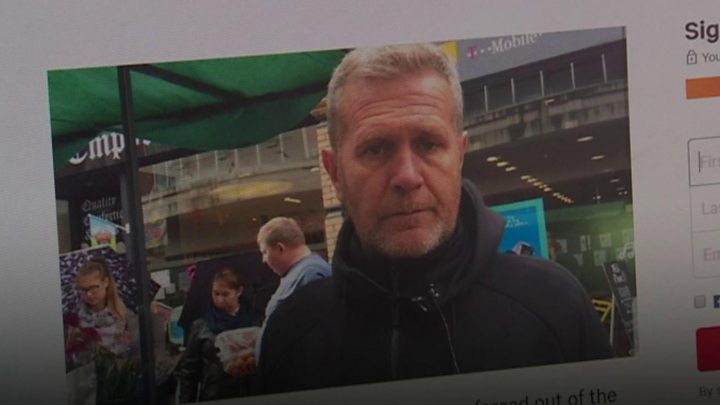 A flower trader says he is overwhelmed by public support after claiming he was "railroaded" from a pitch he had held for 23 years.
Jonathan Foster moved his stall in Derby after a council deal with TK Maxx to open a store there.
A petition, signed by about 15,000 people, is demanding Derby City Council rethinks the decision.
The council said all parties had agreed to the relocation and TK Maxx said it was "a good neighbour."
Live updates and more from the East Midlands
Mr Foster told the Derby Telegraph that he had been on Albion Street for 23 years and was "baffled" as to why he had to move to East Street.
"I feel I've been railroaded off the pitch by the big boys who came in investing money... it's very unfair," he told the BBC.
He said he has been left "speechless" by the support he has received.
George Hanton, who started the petition, said Mr Foster was a "true grafter" and a "familiar sight" to people in Derby and wants the council to reconsider.
He said: "We want the council to listen to what we're saying and not bend to the will of these big companies."
He also called for people to "think twice" about using TK Maxx when it moves back to the city in 2018.
The authority said they had been in negotiations with Mr Foster for several months and all parties agreed to the relocation.
A TK Maxx spokeswoman said the firm valued its role as a local employer and always tried to be a good neighbour.
She said the company wanted to provide "easy access" for customers in Albion Street, but expected the council to provide a "suitable location" for traders operating outside the unit.